Geneva to Val Thorens airport transfers
Geneva airport to Val Thorens transfers will take about 2 hours and 30 minutes. That, of course, is dependent on traffic and weather conditions or a combination of both.
Val Thorens is one of our most popular private transport routes and it is usually the first and last place we visit each winter, due to its snowy climate. Our drivers love Val Thorens as it has amazing views along the drive.
Book your transfer from Geneva to Val Thorens and look forward to your trip to the highest ski resort in Europe. Use the quick quote form or go to our booking page.
Route map from Geneva to Val Thorens
About our transfers from Geneva to Val Thorens
Val Thorens is Europes highest resort and Geneva to Val Thorens is one of our most popular routes. Due to its popularity we have drivers based in the neighbouring resort of Les Menuires. Mountain Rescue offers a private airport transfer service direct to your accommodation in Val Thorens.
Private airport transfers means a door to door service with sole occupancy of one or more of our Volkswagen Caravelle minibuses.
All our vehicles are under 3 years old and completely alpine ready. We use comfortable Volkswagen Caravelle minibuses that can seat up to 8 passengers and luggage (including skis). Our fleet of vehicles are all fitted with top quality snow tyres and each minibus also carries snow chains, just in case.
Other features include 4 wheel drive, privacy glass, individual client controls, as well all the latests driver assist options, these are top notch vans with no compromise on safety.
We take travel very seriously so you don't have to. Our drivers are all very experienced and take great pride in making your trip as comfortable and safe as possible. We offer child seats at no extra cost and if you need to take a shirt break its no trouble, just ask the driver.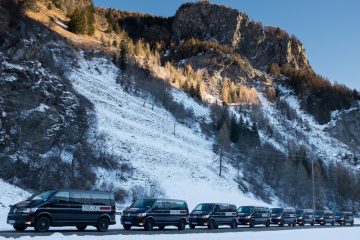 Private airport transfers from Geneva, Grenoble, Chambéry and Lyon airports direct to your ski resort. Sole occupancy in one or more of our comfortable 8 seat Volkswagen Caravelle minibuses. No waiting for other groups, direct to your chalet and highly rated.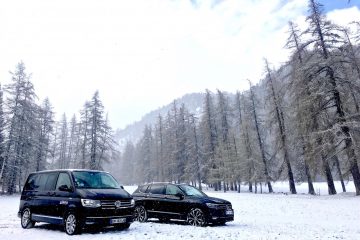 Choose space, comfort and the little extras by traveling Business Class this winter. Our premium vehicles come with leather seating, permanent 4-wheel drive, privacy glass, on-board WI-FI, iPads with a selection of films and USB charging ports.
The journey from Geneva to Val Thorens
Your friendly and helpful driver will meet you in the arrivals area on the Swiss side of the airport. You will fly into either Terminal 1 or 2 we have pre arranged meeting points for both terminals.
Once you are in the vehicle you head off in the direction of France. You will  follow the A41 towards Annecy, then drive around the proximity of Lac d'Annecy (Annecy Lake). This is a very picturesque part of the journey, if you are lucky enough to be travelling in the day time. The mountains rise up from behind the lake as we drive, so you will start to feel that you are close to the Alps.
After Annecy we pass the city of Albertville on the motorway. Then the small town of Moûtiers. Moûtiers is the town situated at the break off point for two main routes heading up into The Three Valleys ski area, one road for Les Menuires and Val Thorens,  the other for Méribel and Courchevel.
From here  we climb upwards for another 40 km, so you have plenty of time to get excited and enjoy the twists of this extraordinarily long mountain road. Our driver will have the GPS location of your accommodation (or know it) and will take you directly to the door and help you unpack the van. and see you to your location.
Have a great trip 🙂 See you on the return!
Plan your journey from Geneva to Val Thorens
We recommend that Saturday travellers land at Geneva airport nice and early to avoid afternoon traffic closer to the mountains. This is the same for the return as Saturdays can get busy on the roads go for either an early flight or a late one to help with a swift transfer with little traffic.
Its good to know that prior to traveling with us we will send you confirmation of your pick up time. This is particularly handy for the return trip. When you book you get an estimated pick up time but we like to confirm just the night before incase of changes in weather. We send you an email and SMS at 16:00 along with the drivers name and number. Val Thorens to Geneva takes around 2.5 hours but can be a bit longer with traffic so expect a pick up time of around 4.5 to 5 hour prior to travel at the weekend. Weekdays it will be bit less. We are completely flexible its all about getting you to your flight on time.
Supermarkets on the way to Val Thorens
Supermarket stops can and must be booked in advance - a great way to arrive prepared at your accommodation. Our favoured shop stop on route to Val Thoren in The Three Valleys is Carrefour at Moûtiers.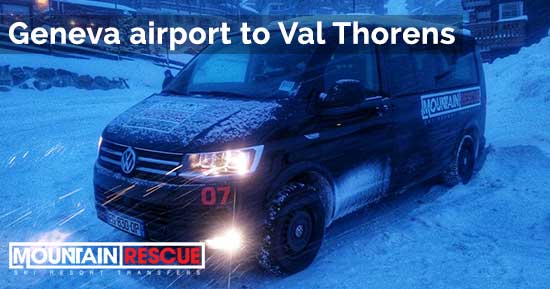 At Geneva airport
At Geneva airport, once you have disembarked your plane, you are directed from the Swiss side of the international airport and you head towards French border control. Usually there is no hold up here.
About Val Thorens
Val Thorens is the highest ski resort in the 3 Vallées ski area so it can't be beaten for snow sure skiing. Sitting at an impressive 2,300 metres this purpose built resort has 140 km of its own pistes and access the total 600 km of piste in the whole ski area. Après ski in Val Thorens is also exceptional, with plenty of live music on at the Saloon Bar. Head over to the highest British Pub in Europe - the Frog and Roast Beef for a pint or two.
Find out more about Val Thorens ski resort >
Download the Val Thoren APP - Val Thoren in your pocket!
Resorts close to Val Thorens
Val Thorens is part of The Three Valleys, a huge ski area. Connected to Méribel and the villages of Les Menuires & Reberty you shouldn't run out of ski time, nor restaurants.
However visiting another ski area for a day can't hurt.
La Plagne is only 1 hour 30 minutes from Val Thorens. Connected by a huge cable car across the valley, to Peisey-Vallandry and Les Arcs, this area is collectively known as Paradiski. And is well worth a visit.
Contact us if you need a transfer resort to resort.