Les Arcs ski resort guide
Les Arcs is made up of six smaller resorts at different altitudes; Bourg Saint Maurice is the main town at the foot of the mountain. From there the funicular - a mountainside railway - brings visitors up to gain access to Arc 1600.
Arc 1600 is nestled in the tree line and enjoys excellent access to the slopes. There are a few eateries. Lots of self-catered accommodation.
Arc 1800 is slightly bigger than 1600, with more après ski available and a good shopping area for clothes, ski gear and holiday keepsakes. There are plenty of places to eat. It is the central hub between Peisey-Vallandry and the rest of the Les Arcs resorts, with great access to high slopes via the Transarc.
Arc 1950 is the newest and is a self contained village with many fine restaurants and bars to choose from. Ski out of the village to the lifts or take yourself all the way down to Villaroger. Arc 2000 is walk-able.
Villaroger is a small commune at 1200 metres, linked to the rest of Les Arcs by three ski lifts. A quaint old village, we think Villaroger is just beautiful.
And finally there is Arc 2000, which is actually situated at 2100 metres, and has amazing access to the top slopes where there is snow sure skiing of the highest quality. Here there is good après ski and plenty of restaurants to choose from.
In Les Arcs there is a high percentage of runs situated above 2000 metres, the highest point being the Aiguille Rouge with an elevation of 3,227 metres. So snow is guaranteed.
On a clear day you can see the Mont Blanc from the higher slopes of Les Arcs.
Les Arcs and Peisey-Vallandry ski passes
Les Arcs is closely linked to Peisey-Vallandry, and a ski pass for Les Arcs now includes the Peisey-Vallandry lift network. To include the ski area of La Plagne, which is just across the valley and accessed by the Vanoise Espress, buy the Paradiski pass.
Things to do in Bourg Saint Maurice
Center Nautique: Three swimming pools - one is a 50m outdoor pool, popular in summer, one 25m indoor pool and a warm baby pool. The two bigger pools cater for both lengths and playtime, just check the time tables.
Ski Joëring: Attached by a harness you are pulled along by a horse or a pony, through snow, whilst on skis. A lovely way to see the mountains and nature, via forest paths.
Horse and Carriage: Depending on snow cover.
Things to do in Arc 1800
Galerie Aiguille des Glaciers: Bowling alley, games room, bar, giant screens.
Cinema: All the latest films in English.
Mille8: Swimming pool with children's area and slide, plus a more relaxed spa and wellness area for adults.
Tobogganing: At the Villards gondola, pick a toboggan and slide down the slope, through colourful illuminated tunnels and past a video wall back to 1800. For families and children.
Things to do in Arc 1950
Dog Sleds: Sitting in a sled whilst we drive and our Alaskan huskies pull you along, through a winter wonderland. Situated between 1950 and UCPA.
Things to do in Arc 2000
Bowling Arc 2000: In the heart of the resort - bowling, billiard / games room, sports bar and free internet.
Luge: Not for the faint-hearted the luge at the top of the Transarc in Arc 2000 is fast! Great for groups.
Igloo Village: Ice cave, igloo bar, bedrooms, dining areas and a dance floor area are all part of the Igloo Village. Bottom of the Arcabulle.
Skidoo: 15 minute introduction for children.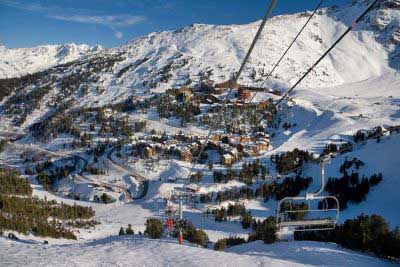 Useful Les Arcs links
Tourist information
Les Arcs tourist information
Les Arcs piste map
Getting around Les Arcs
Bourg Saint Maurice tourist information
Villaroger tourist information
Ski schools in Les Arcs
New Generation: New Generation Ski School based in Les Arcs. Friendly and experienced instructors, to help you get the most out of your holiday.
AIM Snow Sports: AIM Snowsports ski school provides safe, fun and enjoyable ski lessons across Les Arcs. Private lessons, beginner lessons and off-piste lessons in Les Arcs.
Arc Adventures: Children and adults, private or groups, beginners, advanced and adaptive skiing.
Ski hire in Les Arcs
There are lots of ski hire shops in the various Les Arcs resorts.
SkiSet: Located in Les Arcs 1600, 1800, 1950 and 2000. There are often more than one SkiSet shop in any one resort close to accommodation. 50% discounts online.
Precision Ski:  Located in Les Arcs 1600, 1800 and 1950. 20 - 60% discount online.
Intersport Les Arcs: Located in Bourg Saint Maurice, Les Arcs 1600, 1800, 1950 and 2000 there is often more than one Intersport shop in any one resort which makes it easy to change skis or boots if they are uncomfortable.
Les Arcs location
Les Arcs ski resort airport routes
One of the easiest ways to get to Les Arcs is to fly to one of the airports below.
What we like about Les Arcs
Great tree runs down through Arcs 1600.
Shopping areas in Arcs 1800.
Busy bars and restaurants of Arc 1950.
Snow park just up from Arc 1600.
Lots of challenging skiing.
Wide, open runs for intermediates.
Views of Mont Blanc.
Things to do in Les Arcs
Ice climbing: Climb frozen waterfalls, couloirs or gutters, as well as mixed terrain or compact snow. Use of traction-ice axes and point-crampons. Evolution 2.
Snowshoeing: Half or full day of snowshoeing, where you can discover nature in the mountains. With Arc Adventures.
Paragliding: Known as the parapente in France, fly high above the mountains for a spectacular view.
Speedriding: A blend of paragliding and skiing. Speedriding takes you to incredible speeds, and lets you jump over areas to land in snow fields.
Relaxation and well being in Les Arcs
Bourg Saint Maurice
Le Coeur d'Or: Open all year. Sauna, hammam and fitness room. Treatments available.
Arc 1600
Hotel Arcadien: Body treatments, sauna, jacuzzi and Swedish hot tub.
Arc 1950
Deep Nature Spa: Relaxing pools with jets and currents, themed caves, Turkish bath, outdoor sauna chalet, sensory shower trail, nail spa and relaxation area.
Arc 1800
Mille8: 2 hammams, 2 saunas, a rest room, showers, tea-rooms, weight-training and cardio-training equipment.
Arc 2000
Taj-l-Mah: 15 metre swimming pool, sauna, jacuzzi and a Turkish bath. Treatments available.
Events in Les Arcs
Bourg Winter Film Festival: Every year Bourg Saint Maurice holds the winter film festival in November. World films about skiing, snowboarding and travel.
Saturday Market: Bourg Saint Maurice.
Christmas Lights Ceremony: Watch Bourg Saint Maurice light up at the beginning of December. Vin Chaud and live music.
Les Fondus du Ski, Les Arcs: Les Arcs celebrates each new ski season with skiing, cheese and après ski. Usually the middle of December.
Les Arcs Film Festival: Mid to late December. Across all the Les Arcs resorts.
Christmas and New Years Eve are highly celebrated in all resorts. Visits from Father Christmas, vin chaud (mulled wine), hot chocolate and fireworks are usually available in village centres.  Russian Christmas is celebrated in January.
La Pierre Blanche Ski Mountaineering: Hosted in January.
Australia Day: Celebrated all over Les Arcs on 26th January.
Freeride Week:  At the end of January/beginning of February Les Arcs 1950 celebrate the worlds top free-ride skiers.
European Gay Ski Week: End of March.
Spring Skiing:  Festivities to end winter and enjoy the sunshine. Live music, ski water slide, big air bag and so much more.
The famous Medieval Festival takes place every two years in July, with medieval markets, fire displays, street theatre, costumed parades, and sound and light shows.
Accommodation in Les Arcs
Erna Low Ski Holidays: Erna Low is one of the UK's oldest and most experienced ski holiday specialists; providing accommodation and holidays to the best ski resorts around the world, including Les Arcs.
Sno: Chalets, hotels & cheap ski deals in the world's top 200 resorts.
PVR Rentals: Self catered and catered ski chalets in the Les Arcs area.
Arc 1800
Mercure Les Arcs
Aiguille Grive Chalets Hotel
Arc 1950
Chalet du Lys: Rooms and cottages.
Radisson Blu: Self-catered apartment accommodation with kitchenettes.
Arc 2000
Taj I Mah: Five star hotel and restaurant.
Bars and restaurants in Les Arcs
Bourg Saint Maurice
The Cherry Garden: Serving cuisines predominately from Thailand but Japanese also on the menu, for lunch and dinner. Take away available. Pop in for a coffee, or enjoy evening drinks. The Cherry Garden is a lot of fun after dark, with a lovely big garden and an outside bar.
Pause Café: Amazing coffee and kürtös.  Lovely atmosphere and service. Breakfast and lunch.  Good for children.
L'Arssiban: Fine dining restaurant with modern, creative cuisine in a typical chalet setting.
Ski Roc: Amazing pizzas with any topping you could wish for! Also does salads and burger. Avenue de l'Arc en Ciel.
Arc 1600
Restaurante le Cairn: Traditional cuisine, Italian and Savoyard specialties. Salads and pizzas also available. A lovely terrace with a superb view of Mont Blanc and the Tarentaise Valley.
Le Chalet de l'Arcelle: Seasonal menu.
Le Sanglier Qui Fume: The restaurant of the wild boar stew and burger, although they do serve other meats. A lovely terrace with great view.
Arc 1800
Bar King Mad: This is a great place to hang out, have lunch or get in some après ski. Serving great burgers, nachos, chicken, soups and sandwiches. The terrace is nice to sit on, in the sun. There are loads of events on here and you'll find a lot of English speakers.
Chez Boubou: Great après ski. Good food and beer.
La Popote: Say la POPOTE in an Italian accent! Great burgers, hot dogs and sandwiches. Eat in or take away. Small inside area, but a lovely terrace which is fabulous on a sunny day.
Vôga Goga: Lunch time or afternoon venue, as it is up on the hill. Lovely food such as Savoyard specialities, salads, charcuterie and pizzas. Relaxed après ski atmosphere, slide back down to Arc 1800.
Arc 1950
Wood Bear Café: Tea room with a twist. Breakfast, lunch, coffee and wine.
Meli's Snack: Great for a quick lunch.
La Vache Rouge: Speciality Savoie dishes, beef and pizzas. To eat in or take-away.
Restaurant Le Mazot: Savoyard menu - a range of fondues: traditional, Reblochon, Morels, Beaufort or Burgundy. Pierrades, raclettes, tartiflettes and croziflettes. A sunny terrace for sunny days.
Les Belles Pintes: Irish pub with good beer.
Chalet de Luigi: Mountain specialities and wines. Bar and night club called Club 1950.
Arc 2000
Bulle Café: Above 1800, the Bulle Cafe has great views and a vibrant atmosphere. Set in between pistes, it is a great place to sit and watch the skiers go by. Serves sea food platters, foie gras, champagne, wine and beers.
Pizza Lolita: Pizza place.
Latino Loco: A wordly bar and restaurant serving everything from snails, to spring rolls, squash, fajitas, burgers and also raclette, tartiflette, pierrade and fondu. A good après scene and regular DJ's.
Restaurant Le Kilimanjaro: Mountain restaurant.
Les Arcs airport transfers
Mountain Rescue offer Les Arcs airport transfers from Geneva, Lyon, Grenoble and Chambéry airports direct to your holiday accommodation in resort.
Geneva airport is probably our most popular airport to get to Les Arcs because of the convenient flight times.
Travel time is around two and a half hours. Depart about 5 hours before your flight time (subject to road conditions).
Lyon and Grenoble are also around two and a half hours drive and Chambéry airport is the closest with a one and a half hour transfer time.
To book an airport transfer from Geneva to Les Arcs or any other of the airports mentioned simply use the quick quote form on the right of the page, get your competitive quote and request a transfer.