Geneva Airport Transfers
Mountain Rescue offer private Geneva airport transfers 7 days a week to all ski resorts in the Tarentaise valley.
Transfers from Geneva take between 2.5 to 3 hours to resorts such as Tignes, Val d'Isère, Sainte Foy Tarentaise , Les Arcs, La Plagne, Méribel, Courchevel and Val Thorens.
Geneva is our most popular airport and no wonder, it has the largest number of flights from all over europe and great access to the snow capped Alps. Geneva airport would be our recommended airport if ever asked. Its seemingly the most reliable with good parking and easy access to France.
Our driver will meet you in the terminal with a sign with your name on and take you and your group directly to your vehicle. We offer our world famous Private transfer service from Geneva to the French Alps. Book with us and receive our exceptional door to door service. Comfortable 4 wheel drive vehicles along with a helpful and courteous service from our drivers.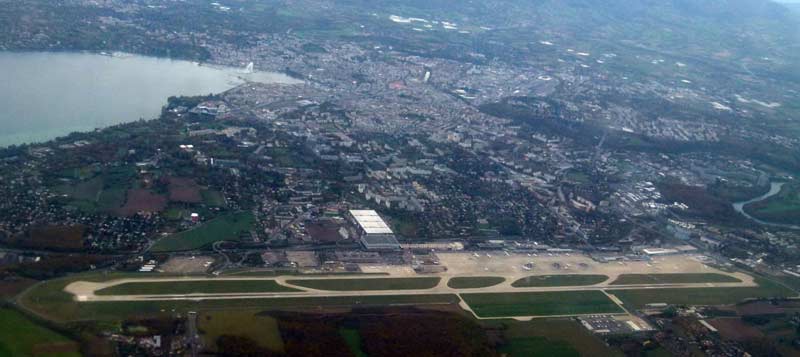 About Geneva Airport
Geneva International Airport (GVA) is one of the busiest airports in Europe. It's a major hub for airlines such as EasyJet, Transavia, KLM, and British Airways.
Over 13 million passengers arrive at Geneva airport each year and it has more than 120 direct international flight destinations.
During the winter Geneva is without a doubt the most popular airport - used by skiers and snowboarders travelling to ski resorts such as Tignes, Les Arcs and Méribel.
It's situated between the Jura mountain range and the huge Lake of Geneva (or Lac Léman). So, which ever way you approach, the landing view from the aircraft is spectacular.
The airport has a legal responsibility to the environment and has set high objectives - check out Geneva airport's environmental page.
Geneva Airport Guide
Geneva airport is around 4 kilometres from the centre of the city of Geneva, Genève in French (pronounced Jen-ev).
It's easy to travel between the airport and the city by bus or train and only takes 5 minutes. The city centre is beautiful and is a nice way to spend a morning if you have some spare time.
The train station is just outside the main terminal - it takes about 5 minutes to walk there. It's an easy walk, with escalators down to the platforms.
Trains to the city centre are extremely frequent. They arrive at Geneva's central station - Gare Cornavin - which is the first stop.
Geneva Airport Restaurants and Cafés
All You Need Bar & Shop
Café, bar, pastries, sandwiches and chocolates. Drinks including alcohol.  Newspapers and magazines. Located at some departure gates.
Montreux Jazz Café
Open 7am until 10pm
www.montreuxjazzcafe.com
Bistrot Genève
Traditional Swiss meals, typical of the mountainous region. Seasonal, local products are used in home-made dishes. Not open on Monday evenings.
BreakTime
Bar, coffee, snacks, bakery with traditional breads. Finger food and some hot meals such as pizza.
Caviar House & Prunier Seafood Bar
A modern restaurant offering in Prunier cavier, smoked Balik salmon, foie gras, Pata Negra de Bellota 5 Jotas, lobster and other seafood. Eat at the bar.
Eat with Joy
Healthy meals including a variety of salads, falafal and muesli.
Le Chef
Sit, watching the runways and the Jura mountains at Le Chef. Sit at the bar, relax in the lounge or on the outside terrace. A modern menu with fresh, exhilarating flavours.
Street Food Company
Latin American specialities.
Le Bar
Hot and cold drinks plus snacks.
Le Cellier
Bar, coffee, snacks and drinks.
Little Coffee Shop
A miniature van where coffee and snacks are available.
Moleskine Café
Enjoy your favourite type of coffee whilst surrounded in the Moleskine stationery and gifts.
Martel - Tea Room
Tea room, pastries, snacks and meals. Chocolates made by Martel since 1818.
McDonald's
The usual and famous McDonald's burgers, fries, chicken, coffees and drinks.
Seven Spices
Kebab, Dürüm and Falafel.
Swiss Chalet
Swiss specialities with a fast and friendly service. Fresh salads, sandwiches, desserts and drinks.
Thai Urban Kitchen
TUK offers a range of Thai specialties.
Starbucks
American coffee brand with made to order coffees.
Pasta Box
Homemade pasta specialities.
Click to view Geneva airport's layout of shops and restaurants.