La Plagne resort guide
La Plagne has a base altitude of 1250m at the village of Montchavin rising to an altitude of 3,250 metres at Glacier de la Chiaupe below the summit of the 'Bellecôte'. The 225km of pistes are spread over 100km² of terrain encompassing eleven 'resort towns'. 
La Plagne is linked to Les Arcs and Peisey-Vallandry via the Vanoise Express cable car. The three areas combined make the area known as Paradiski and offers a huge 425km of ski pistes covered under a single 'Paradiski' lift pass. 
La Plagne is famous as the location of the 1992 Albertville winter Olympics' bobsleigh track. The world class track is regularly used for international competitions and is also open to the public. A number of different 'bob's' can be experienced, from the four-man bob to a single-person bob that can reach 90km/h!  
La Plagne is a lively resort with lots to do, plenty of skiing for all levels and has a large selection of apartments, hotels and chalets spread around the mountain side within the 'resort towns'.
La Plagne Centre at 1970m was the first of the resort areas, above it Aime-La Plagne 2100m hosts a Club Med and large apartment block designed by Michel Bezançon, known as 'the steamer of the snow'. For a more traditional experience Champagny-en-vanoise 1250m has catered chalets and self-catering in a charming smaller village on the sunnier south side.
What we like about La Plagne
Scotty's bar at the bottom of the Stade Olympic
The long winding runs down to Champagny
The Vanoise Express
Skiing in La Plagne
The ski area is as diverse as the resort towns. From stunning glacial skiing to the undulating blue runs below  the Grande Rochette to challenging natural black runs, there is something for every level of skier. Including freestyle park areas and many tree-lined off-piste routes. 
La Plagne has 225km of piste: Approximately 15 black, 30 red, 72 blue and 10 green. Additionally there is multiple off-piste skiing and guided descents to be enjoyed. Investment is ongoing within the resort area, each year brining new pistes and/or lifts. See here for latest piste maps and other essential maps.
La Plagne ski passes for 2018/19 are €269 for 6 days. Wider area, Paradiski ski passes are also available. Prices can be found here. 
Beginner Skiers
La Plagne has 10 green slopes, served by button lifts, chair lifts and a few magic carpets to get the beginners going. A multitude of ski schoolsserve the area and English is widely spoken. The rolling landscape of La Plagne then offers a huge selection of picturesque rolling blue runs to enjoy as one progresses.
Intermediate Skiers
La Plagne is an intermediate skiers paradise. A huge selection of red and blue runs cover the area. From south facing, sun drenched runs of Champagny-en-vanoise to the more north facing tree lined runs of Montchavin and Les Coches. And between the two the central 'bowl' of La Plagne. All served by a selection lifts including some fast eight-seaters on busy routes. Exploring is the name of the game in La Plagne. 
Advanced Skiers
For the advanced skier La Plagne gives access to a wealth of different style pistes. Moguls in abundance on un-groomed black runs and 'natural' blacks form the glacier to the steep carving delights of long 'Rochette' black run from La Grande Rochette. 
For those in search of off-piste there is the easily accessible routes out of La Plagne Centre and towards Champagny-en-vanoise. Or if you really want some thrills, hire a guide and tackle the North face of the Bellecôte.  
What we like about La Plagne
Scotty's bar at the bottom of the Stade Olympic
The long winding runs down to Champagny
The Vanoise Express
Airport Transfers to La Plagne
Private airport transfers to/from La Plagne from Geneva, Lyon, Grenoble and Chambéry airports. Transfersjourney times from Geneva, Lyon and Grenoble airports to La Plagne are approximately 2.5 hrs and from Chambéry airport in under 2hrs.
Route guides:
We have compiled many route guides to give you a better insight to the route and how to plan you trip weather its on one of our transfers or by other means.
Geneva airport to La Plagne
Lyon airport to La Plagne
Mountain Rescue offer:
Clean and comfortable Volkswagen Caravelle minibus.
Smart, helpful and English speaking driver.
Child and booster seats on request.
Free waiting time if flight delayed.
24/7 help from our central office.
To book your transferwith Mountain Rescue simply complete the quick quote form on the right of the page and get your competitive quote. Once you have the quote complete the transfer request form with your details and send off to our office.
Our Alps office will swiftly reply to your request and send you an overview of your travel details and a request for an on line card payment.
Once you make the payment via a secure online payment link you will receive a confirmation of booking and all the details you require for your trip with us.
Mountain Rescue Transfers is a french registered transport business and has all the correct licensing and insurance to carry paying customers in France and Switzerland.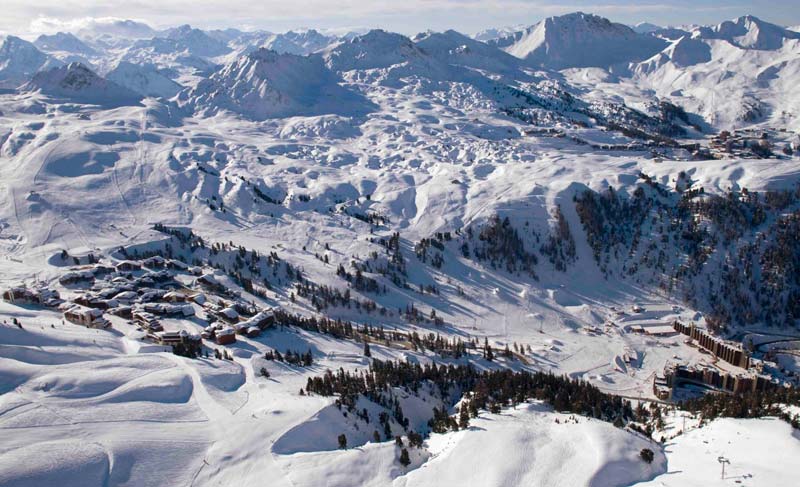 Useful links
Tourist Information
La Plagne Tourist Information: for everything thats going on.
La plagnet.com: Handy information site.
Piste Maps: Plan your routes for the holiday online.
Ski Schools
ESF La Plagne: let the locals show you the way.
Oxygène: Your favourite ski school in La Plagne.
Lime Snowsports: The fresh and fruity option for learning to ski.
Evolution 2: Ski School and mountain adventures.
Ski Hire
Plagne 1800 Sports
Sports Village
Skimium
Intersport
Things to do in La Plagne
Bobsleigh Track: Only in La Plagne, a fantastic bobsleigh track, open every winter between mid December and mid April
Super Tyro Zip-Line: Fly over the green lake of Tyrolienne on a 600 metre zip line between Aime 2000 and La Plagne.
Paragliding: Take to the skys and see the mountains as never before.
Snowmobile: The specialists in organising truly amazing snow mobile excursions for all levels.
Walking Trails: Discover the best walking trails in La Plagne.
Events
Snow Frappadingue Race: The most famous obstacle race in France.
First tracks: Get up at the crack of dawn and carve the first lines into the corduroy. Savoyard breakfast included for 12 euros.
Films From Up High: New mountain based films shown every week, enquire at the tourist office.
Accommodation
Chalets
Ultimate Luxury chalets: VIP ski holidays
Smitten by Snow: Fantastic holiday options in La Plagne.
Sno: Ski chalet holidays in La Plagne.
Ski In Luxury: Luxury chalets La Plagne
Hotels
Hotel Araucaria: A hotel full with everything. Tepidarium, sauna, ice-room, sensory shower, hydro massage corridor, relaxation room, swimming pool and even an aquatic play area for children.
Le Vancouver: Offering high levels of comfort in enchanting surroundings
Carlina Hotel Belle Plagne: 4 Star Hotel and Spa
Self-Catering
Résidence Bellecôte Apartments
The Hotel Carlina Résidence
Les Granges du Soleil
Bars & Restaurants
Bar La Mine Plagne 1800: English owned pub style bar with a great atmosphere and a large selection of beers.
Scotty's bar: The perfect pit stop in between runs, for lunch and the most popular arpe ski bar in resort.
Le Grizzli: For the best steak in town 🙂
Restaurant Le K2: A tastefully decorated environment, with a large selection of dishes from around the world.
Childcare
Little Chicks Childcare: Professional childcare service
ESF Childcare: let the ski mums look after your little ones.
Alpine Childcare Alpine child care services.
Summer
Intersport La Plagne Bellecotte: Mountain Biking MTB/VTT Rental.
Information on Electric MTB/VTT
Hiking guide: The best walking routes.
Espace Aqualudique Paradiso: Equatic and wellness complex in Montchavin, La Plagne.
La Plagne location