Val Thorens
Val Thorens town sits at an altitude of 2300 metres making it the highest ski resort in Europe.
With altitude comes snow and Val Thorens benefits from large amounts of the good stuff. Many of the slopes are north-facing too, giving great piste conditions.
Snow-sure Val Thorens opens earlier and closes later than other resorts so the resort is normally open from mid-November to early May. It's a great resort to come to if you'd like to ski outside of school holidays.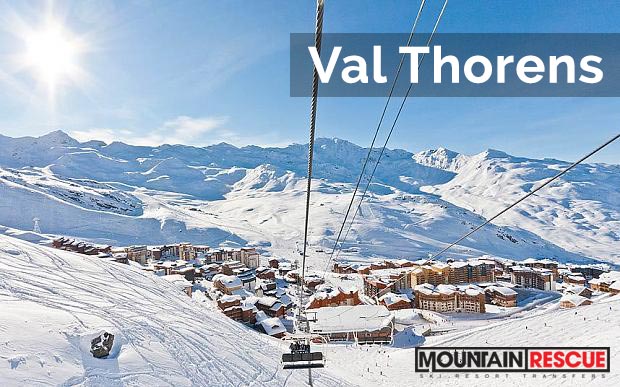 Val Thorens Resort Guide
Val Thorens is part of the largest ski area in the world - The Three Valleys (Les Trois Vallées) ski domain.  The town itself is the highest of all the resorts and is situated is less than 1000 metres below the highest peaks - 'Pointe du Bouchet' (at 3420m) and 'Cime de Caron' (3200m). They are both skiable and accessible by the lift system.
Less than fifty years in existence, Val Thorens was originally built lacking style, like many of the Tarentaise Valley resorts of the mid-1900s. It meant there were some pretty ugly concrete structures erected at the time.
Don't despair! Lots of the buildings have been redevelopment over time, and just like new builds, now have to meet strict regulations in style and materials. The result is a more attractive Val Thorens, and like a fine wine, it gets better with age.
Val Thorens is a world in itself with a plethora of high-class hotels and apartments which are a stone's throw from the pistes. Accommodation is usually within walking distance of bars and restaurants which line the snow-covered streets.
There's a unique vibe because of the abundance of British, Dutch, Belgian and German skiers, that Val Thorens welcomes with open arms. The banner at the entrance reads - 'Welcome to the United Nations of Val Thorens'.
Skiing in Val Thorens
Val Thorens' sixty-eight pistes run from a dizzying 3220m to 1850m in altitude. This doesn't mean they are all challenging. Almost eighty percent of pistes are blue and red runs - a haven for intermediate skiers and snowboarders.
The remainder of runs is either black or green, eight of each.
Plus there are countless back-country opportunities for advanced skiers.
Pistes here link seamlessly into the 600km domain of The Three Valleys. There is no shortage of piste for any level of skier. In The Three Valleys 16% are green, 40% blue, 34% red and 10% black. All are accessible under the Three Valleys lift pass.
Ski passes for Val Thorens are about €270 for 6 days. A Three Valleys 6-day ski pass is around €330.
More options and prices for Val Thoren ski passes can be seen here.
Beginner Skiers in Val Thorens
In Val Thorens, there is a large beginners area between the Roc and 2 Lacs chairlifts. Take a look on the piste map.
These nursery slopes have 4 magic carpet lifts which are free to use. Fabulous for those first-time skiers and snowboarders.
Beginners will then progress out of the nursery area onto gentle blue runs that link the valley areas together.
The blue runs mean that beginners are not limited to one area or single piste.
A piste called Cairn heads to Les Menuires is a notable wide and smooth blue leading to the narrower but even less steep Boulevard Cumin.
Then it is only a couple of lifts and a choice of blues back to the Val Thorens resort. An accomplished day!
Intermediate Skiers
Both Val Thorens and The Three Valleys network is over 75% blue and red runs, meaning exploration is the name of the game.
If you are staying within Val Thorens then find your 'ski-legs' on the Moraine and Genepi blue runs, accessible from the Moraine lift.
Then perhaps head to the Grand Fond cable car up to 3000m to explore the heights. Here is a choice of blue and red pistes that head back to Val Thorens.
Try the Boismint chairlift if you want to head out of Val Thoren to access a number of popular red runs towards Les Menuires.
Advanced Skiers
For advanced skiers, there's no shortage of challenges and leg-burners in Val Thorens. Four high peaks surround Val Thorens and each offer different terrain.
Try the infamous Combe de Rosael that often has a huge mogul field. If you're after fresh powder a good place to go on an early morning is the Bouchet lift towards the Orelle valley. You'll find the pistes here wide and quiet.
Alternatively, try the Point de la Masse for four challenging black runs.  Then head over to Courchevel for some notorious couloir action.
Val Thorens Snow Park
The Val Thoren Snow Park, on the Plateaux sector, is a world-class snow park that annually hosts freestyle competitions.
It's made of big jumps, rails, tabletops and boxes of different sizes for different abilities. It is massive.
There are also quarter pipes and a jump airbag, which will cushion your fall as you try new tricks.
Freestyle competitions are organised all through the winter season.
Val Thoren Links
Tourist Information Office - practical information, events and activities. Area and piste maps are available here.
Val Thoren Piste Map - an interactive piste map, showing closed pistes in real-time.
SeeValThorens - independent site where you can discover more about Val Thorens.
Val Thorens Holidays
Ultimate Luxury Chalets - a true list of luxury chalets in Val Thorens.
Ski In Luxury - the finest luxury chalets and hotels in Val Thorens.
Sno - unforgettable Val Thorens winter holidays.
Accommodation
in Val Thorens
Chalets
Le Sommet - 28 person Chalet in the panoramic location at the top of Val Thorens.
Catherine - superb ski-in ski-out chalet with a sauna.
Mathilde - ski or walk 100m from the door to the piste. A shared wellness area.
Cocoon - 12/14 person chalets.
Hotels
Hotel Pashmina - 5-star hotel. High luxury at high altitude.
Le Val Thorens  - trendy and comfortable 4-star alpine hotel.
Fahrenheit Seven - located on the slopes with stylish rooms, cosy bars and excellent food. 
Self-Catering
Val Thorens Apartments - studio apartments to rent at the top of the main area within Val Thoren.
Résidence Maeva le Gypaète - slope-side apartment rental. Website is in French.
Village Montana - cosy ski-in/ski-out apartments. 
Snowboard/Ski Hire and Maintenance
Zenith - a specialist in boot fitting for 30 years where you can buy customised ski boots. They also provide equipment maintenance and rental. 
Skimium - four outlets in different parts of Val Thorens.
SkiSet  - uses a scanner to find your perfect boot size.

Ski and Snowboard Lessons
Oxygene - experts offer group and private ski and snowboard lessons taught in English and French as well as off-piste guiding for both children and adults.
New Generation - touted as a British ski school, we now like to think of ourselves as international. Our Val Thorens ski and snowboard instructors come from many countries bringing a variety of language skills and personalities.
ESF Val Thorens - The local ski school, wonderful for children's group ski.
Things To Do in Val Thorens
Snowshoeing - magical walks in untouched snow led by Brigette Ruff.  From €26. Free equipment hire and transport in the valley.
Yoga - morning yoga or a snow-hike then yoga in the fresh air.
Val Thoren Sports Centre - swimming, well-being and many other activities like tennis, badminton, squash, volleyball and football.
Cosmojet toboggan - one of the longest toboggan runs in the Alps at 6 kilometres.
Bee Flying zip line - from the top of the Moutière chair lift.
The Tyrolienne zip line - from the Bouchet chairlift in the Orelle resort.
Paragliding - take to the skies.

Annual Events
Audi FIS Ski Cross World Cup - annual world-class freestyle skiing competition held in Val Thorens.
New Year's Eve - free New Year event known as Val Tho Crazy. Torchlight parade and fireworks.
Ski and Snowboarder week - demonstrations, parties and competitions.
Australia Day - parties, fancy dress and all things Australian! Val Thoren celebrates with Australia.
Bars & Clubs
La Folie Douce - the original aprés-ski bar. Food, entertainment and dancing.
Le Malaysia  - claims to have Europe's biggest nightclub dance floor.
Saloon Bar  - live bands, cocktails and dancing.
The Frog and Roast Beef – the highest British Pub in Europe.
Crewzer – Saint-Martin-de-Belleville (12 minutes walk from Val Thoren centre).
Au Perchoir – Relaxed lounge bar with a spectacular view of the mountain.
Restaurants
La Pause de Pierrette - fresh products in modern cuisine and local treasures.
Chez Pepe Nicolas - original cuisine in a unique setting in the heart of the alpine pastures of the Belleville valley.
Chalet des 2 Lacs  - local dishes.
John's American - serving English breakfast, Tex-Mex,  garlic bread with cheese and jalapenos and more.
John's Scandinavian - brasserie and winebar serving fish dishes, cheese, salads and chicken.
Supernova - vegetarian/vegan restaurant in Saint-Martin-de-Belleville.
La Maison - sunny terrace or a cosy interior. Fresh, quality products.
Chalet de la Marine - Brothers Arnaud and Cedric Gorini, ski instructors, and natives of Val Thorens, run a Bistro self-service restaurant.
Childcare
ESF Mini Club - a nursery for 3-17 months or childcare plus skiing lessons for older children. They speak great English.
Ski Nanny - nanny agency Saint Martin de Belleville, Les Menuires and Val Thorens. Putting nannies and parents in touch. 
Summer in Val Thorens
Mountain Biking - mountain biking fun in the summer.
Multi-Activity Card - access over 25 summer activities in Val Thorens.
Sports Centre - well-being and relaxation.
Paragliding - take to the skies summer and winter. 
What We Love About Val Thorens
Early season skiing on super quiet slopes.
The resort is south-facing for sunshine-filled terraces.
Accommodation is usually close to the piste.
A well-known piste, Combe de Rosael, known for mogul skiing.
Having a pint at the Frog and Roast Beef, the highest British pub in Europe.
Airport Transfers to Val Thorens
Mountain Rescue Transfers – Our Services
Comfortable VW Caravelle for 8 people.
First Class and Business Class transfer services.

 

Professional, English speaking drivers.
Free child seats and boosters on request.
24/7 office support.
Please visit the Val Thoren transfer booking form to get a competitive quote or enter your destination in the quick quote form on this page.
We will respond with your travel details and a link to secure online payment. Once paid, we will send a booking confirmation. Easy!
Mountain Rescue Transfers is a french registered transport company, licensed and insured to carry paying customers in both France and Switzerland.
Val Thorens snow forecast