The French ski resort of Tignes Le Lac, based at 2100m altitude, is Tignes' original ski village in the excellent, snow-sure, Espace Killy. A favourite with seasoned skiers and beginners alike, the village caters for everyone.
Winter accommodation in Tignes Le Lac is as varied as the ski area and the folks that go there: five star hotels, self-catered apartments, traditional chalets and lots in between.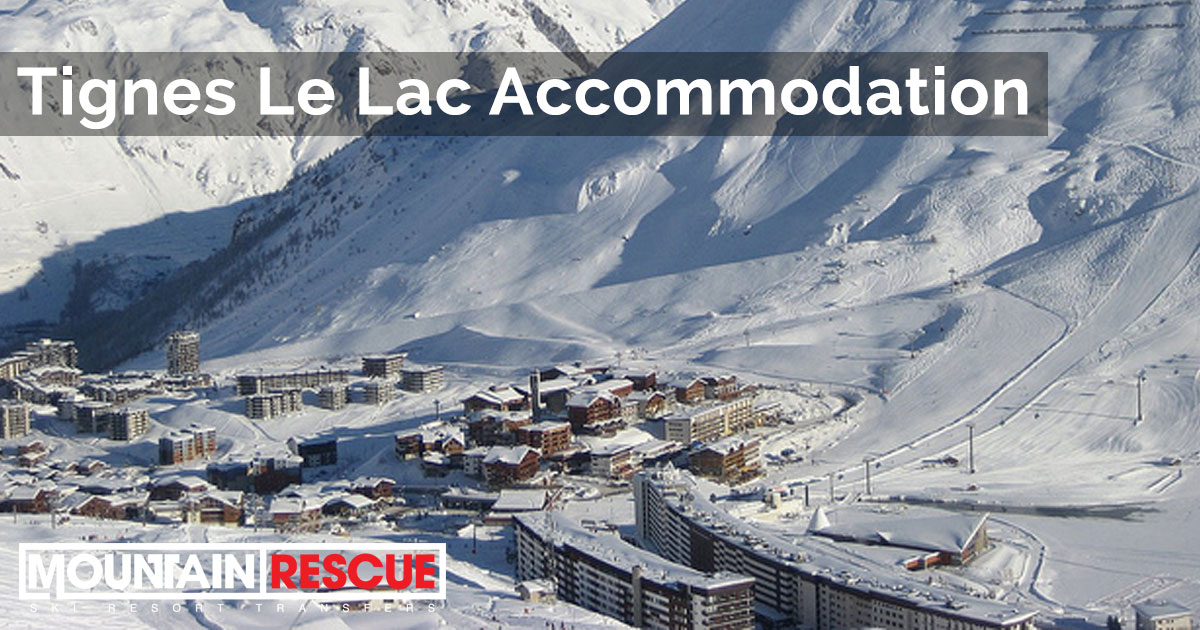 So, in no particular order, let Mountain Rescue Transfers fill you in on some of the broad range of places to stay. Helping you to find your perfect holiday accommodation Tignes Le Lac.
Hotel Village Montana, Tignes Le Lac
Five star hotel suites, four star hotel rooms and four star residences: Village Montana has a vast array of options for a pampered stay in Tignes Le Lac.
There is a heated Nordic swimming pool, a Savoyard restaurant, a spa, ski rental, heated ski lockers and covered parking. In addition to the high star-ratings Village Montana makes a luxurious accommodation option.
The large area of Village Montana is split between Hotel Village Montana, Residence Village Montana and Hotel Les Suites Du Montana. Each offer unique options and level of comfort in the heart of Tignes Le Lac.
Village Montana prices available here.
Le Telemark, Tignes Le Lac
Le Télémark is a complex of four-star apartments in one centralised location as you enter Tignes Le Lac.
From two bedroom apartments (capable of sleeping four people) up to six room apartments (to sleep twelve). All freshly decorated and equipped with the essentials for your stay.
The Chalet complex has spa, indoor pool, hot tubs, saunas, steam rooms, cardio room and massage rooms.
To make things extra smooth there is a concierge service on hand twenty four hours a day.
Further information and prices on Le Telemark are available here.
White Horizons
White Horizons, now in their 14th year, have several chalets well placed throughout the Tignes area.
Six catered Chalets offering hearty home cooked food by experienced, professional chalet hosts are complemented by a further two self-catered apartments.
Established and run by Jamie and Gayle, White Horizon Chalets, who are renowned for their excellent staff and superb holidays. Holidays that bring their customers back to Tignes year on year and fuel their glowing reviews!
Further details on White Horizon chalets here.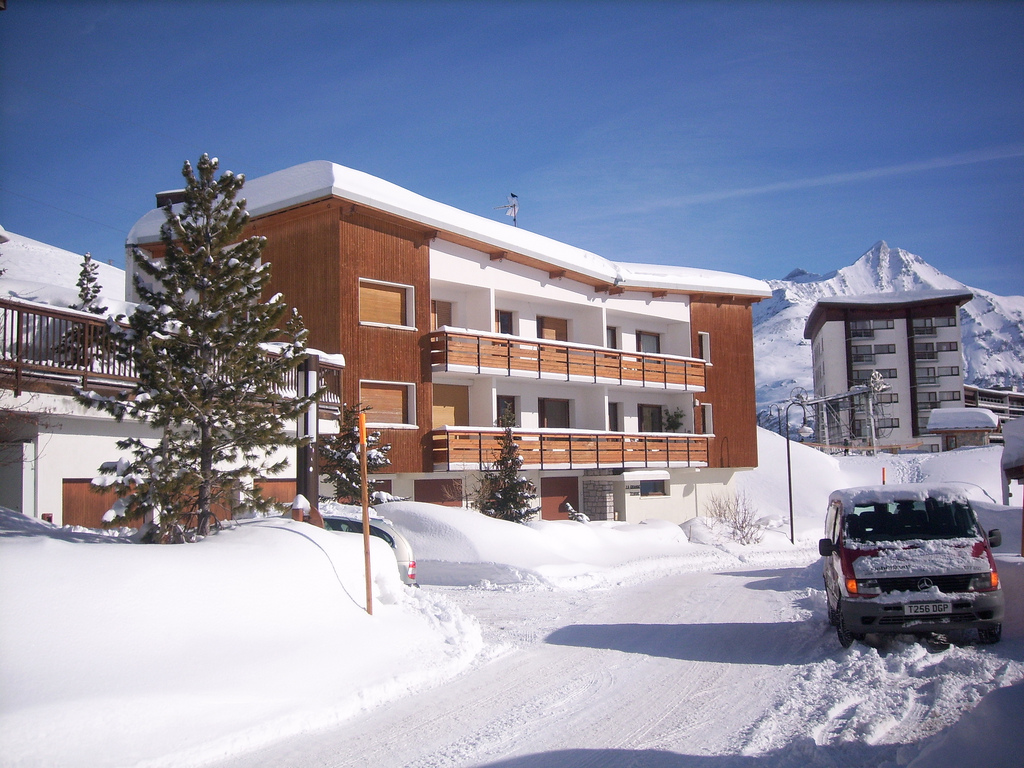 Hôtel Le Refuge
Hôtel Le Refuge has rooms and suites by the night or packages from two to three days skiing.
The two bed room/one bathroom suites accommodate up to six people. Cozy and warm hotel rooms with a choice of views of the glacier, lake or ski area. Some have a balcony as an extra.
Le Refuge is one of the oldest buildings in Tignes having been built in 1924 (but luckily renovated since) and has a rich past.
The unique and cosy atmosphere is reflected in the bar. Coupled with the excellent central location, it is well worth a visit.
Prices and offers for Le Refuge Tignes can be seen here.
Chalet Hotel Aiguille Percée
Situated in the heart of Tignes Le Lac, opposite the ski school meeting areas, the Chalet Hotel Aiguille Percée benefits from a recent £2.5million renovation.
A large choice of room types including interconnecting rooms, duplex style family rooms and apartments.
Breakfast, afternoon tea and gourmet three course evening meals are available as part of a seven day package.
The hotel also has a bar and lounge area to kick back in for the evening and shoot some pool.
Chalet Hotel Aiguille Percée seems to lack a dedicated website, but prices for rooms can be found on many third-party websites.
Apartment La Divaria 3
Toted as 'best value' for Tignes, this apartment sleeps up to four, or six, depending where you look on the internet!
What brings it to our attention are the reviews, generally very happy customers because, although basic, it has a great price and location.
Apartment La Divaria 3 is close to the bars, restaurants and piste but still peaceful. Listed on many websites such as booking.com and Airbnb.
The Tignes Chalet Company
The Tignes Chalet Company, are as the name suggests are purveyors of chalet holidays in Tignes. They currently have a chalet for each year of being in business, ten years and ten chalets!
The Tignes Chalet Company have chalets to accommodate from five to thirty three people, staffed by friendly and experienced hosts. Each chalet is unique, some ski in and out, others with sauna or steam room.
Self-catered apartment, catered chalet or hostel; they offer a very wide choice of accommodation in Tignes Le Lac.
Prices are varied depending on the chalet and time of year. Full prices for winter at The Tignes Chalet Company 2018-19 are here.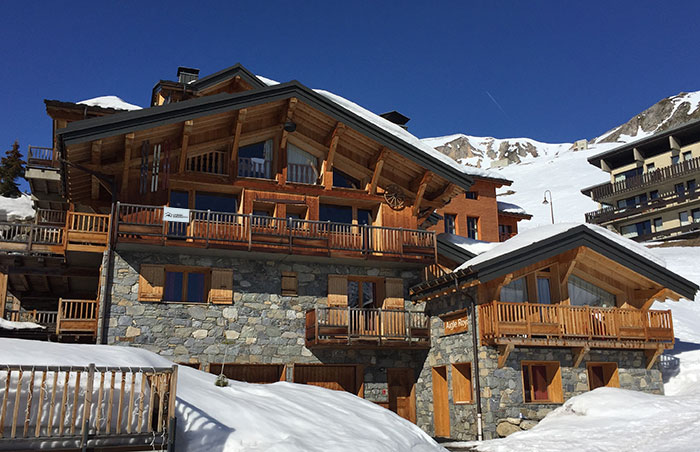 More accommodation in Tignes le Lac
This is just a few selected options for accommodation in Tignes Le Lac. If you'd like to see more the following links will assist: tignes.net, Tignesdirect, tignes.co.uk, seetignes.com, powderbeds.com, Airbnb and booking.com.
And if you're looking for a quality, reliable airport transfer to your accommodation in Tignes Le Lac then pop over to our quote page.
Bonnes vacances!