La Plagne is famous for creating the Paradiski ski area, a 225km ski area joining La Plagne and Les Arcs by the Vanoise Express cable car.
The ski resorts of La Plagne are located at various altitudes (1250m to 2100m).
To enjoy great ski holiday, La Plagne offers a different experience in different villages. It is therefore important to stay in a village that corresponds to what you are looking for : calm and charming, sporty and focus on skiing, partying and après-ski, etc…
For accommodation, don't be worried, each village offers a good choice of apartments, self-catering chalet and hotels.
La Plagne offers a world-renowned ski experience in the Paradiski ski area
La Plagne is a collection of small, purpose-built ski resorts and traditional villages located on the edge of the Vanoise National Park. Well-known as a family-friendly ski resort, it offers an amazing ski area of 225 km of ski slopes and has a good selection of beginner ski slopes (55% of blue and green ski slopes) but also offer some great choices for the more advanced skiers or snowboarders (45% of red and black ski slopes).
If you prefer more intimate activities, you will find superb routes for ski touring, cross-country skiing or snowshoeing. For thrill-seekers, you can even climb a 24m high ice tower in Champany-en-Vanoise. If you love animals, enjoy a dog sled ride in the magical snow landscapes of Dou-du-Praz (Plagne Centre).
Where to stay in La Plagne?
All villages are offering ski-in/ski-out access, as well as restaurants and nightlife. The more traditional villages of Champany-en-Vanoise, Monchavin, Montalbert and Les Coches lie at lower altitudes (1250m to 1450m). These villages are great if you are looking for charming, family-oriented, year-round inhabited villages.
Other ski resorts lie at higher altitude (1800m to 2150m). At these altitudes, snow is guaranteed during the whole ski season. These villages are great if you are looking for full scale ski holiday with great after-ski and entertainment experience. However, off season, most of these high-altitude ski resorts fall asleep.
The ski resort of Plagne 1800 (or Plagne Lauze for the intimate) is a good option to stay as it offers the best of both worlds. On the one side, it is a charming ski village with rooves made of stone, small residences and lovely chalets for rent in a forest area.
On the other side, Plagne 1800 lies at an altitude of 1800m (great for snow) and is very conveniently located very close to La Plagne Centre and its amazing after-ski opportunities. You can even go on foot from Plagne 1800 to Plagne Centre, following a small pedestrian path for 20 minutes in the middle of the forest.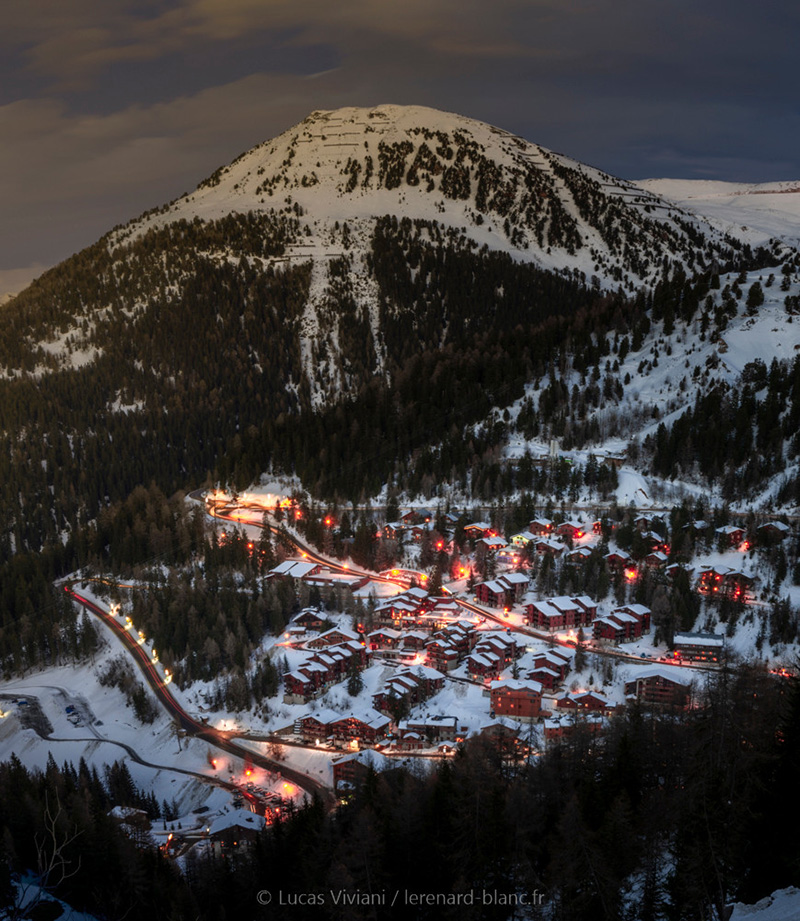 Another good option to stay in La Plagne is the lovely ski resort of Belle Plagne. At Belle Plagne all cars sleep in two large, covered car parks, serving each accommodation. Belle Plagne is entirely pedestrianized. Built at an altitude of 2050 meters, it offers beautiful mountain architecture and harmonious stone with slate roofs. Unfortunately, you will not find a chalet for rent in Belle Plagne because the village is exclusively made up of small residences with an apartment that sleeps 4 to 10 persons.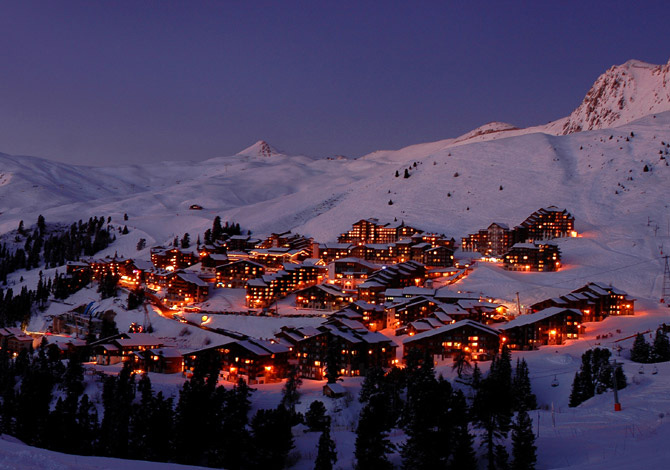 Getting around La Plagne
Each village has its own supermarkets, ski rental shops, bars and restaurants. Therefore, you might not need to move around to other La Plagne Village.
However, if you want to go to cinemas, bowling, outside swimming pool, ice skating ring, specific bars, clubs or restaurants, you might be interested to get around and get to other La Plagne ski resorts.
Between the ski stations of high altitude (La Plagne Centre, Plagne 1800, Plagne Soleil, La Plagne Village), getting around is very easy thanks to free shuttle buses that connect all the resorts and villages. Most of these links are open from 7.00 am to midnight during the ski season with free shuttle buses passing every 10-15 minutes.
The station of lower altitude (villages of Monchavin, Montalbert and Les Coches) are more isolated and don't offer the opportunity to go easily to other villages.
Getting to La Plagne ski resort
There are 4 international airports near La Plagne. However, not all of them are offering direct fly from the UK. The main gateway will be Geneva and Lyon with direct flights to the UK but check out if there are flights to the smallest airports of Chambery or Annecy as those airports are located closer to La Plagne.