The Vanoise Express is the daddy of all French cable cars. Linking the famous resorts of Les Arcs/Peisey-Vallandry and La Plagne, these two double-decker lifts can operate separately and each can transport 180 people at a time (with skis). So you can enjoy twice as many fantastic slopes during your skiing holiday.
The cable car is now a vital link that covers a distance of 1800 metres between two ski resorts. That is nearly 2k of stunning valley scenery from a height of 380 metres - a noteworthy achievement.
Because of the substantial size of the two cabins with two levels, queues are minimal even in peak season.
Be prepared to take some stunning photos as you travel The Vanoise Express, high in the air above the chalets, trees and the Ponturin river.
There is a central glass bottom, which is caged for safety, through which you can look directly down onto the scenery below.
You can even peek down onto the headquarters of Mountain Rescue Transfers!
Children absolutely love the journey on The Vanoise Express, as it really is thrilling. We often take visitors on it purely for the ride.
Ski resorts connected by The Vanoise Express
The Paradiski area consists of Les Arcs/Peisey-Vallandry and La Plagne. Les Arcs and Peisey-Vallandry are now sold as the same resort, but are very different in look and feel. La Plagne is situated across a valley - inaccessible from Les Arcs side until the installation of The Vanoise Express.
Paradiski has 425 kilometres of runs from an altitude of 3226 metres to 1200 metres. Its 262 pistes offer 37 black, 77 red, 135 blue and 12 green.
From glaciers to forest runs, you will find something for everyone. Both resorts have freeride parks and there are some amazing off-piste areas. Check out Aim Snowsports for off-piste skiing lessons.
La Plagne slope and ski information
Les Arcs skiing area
Fast cable car between Plan-Peisey and Les Coches
Another advantage of The Vanoise Express (shortened to just Le Vanoise) is that it is super speedy.
The trip takes less than five minutes - from Plan-Peisey, part of the municipal of Peisey-Vallandry (1612m), to Montchavin/Les Coches, embodied by the resort of La Plagne.
Thus you can start skiing again in no time at all. Not that you'll want the journey to end, as it really is spectacular.
The good news is you'll get to make the return trip home when you've finished skiing.
How did The Vanoise Express get it's name?
Not so far away from where The Vanoise Express crosses the valley the mountains either side begin to meet. In 1963 this area became one of the first protected areas in France and is named Parc National de la Vanoise - or The Vanoise National Park.
The park got its name from a group of compacted mountains called The Vanoise Massif, the third highest group in France. They lie between Tarentaise Valley to the north and the Maurienne valley in the south.
And in turn, the cable car is named after the park. We don't need to explain why it is called 'express', which is a word familiar in both French and English.
Safety in The Vanoise Express
Not only does the huge cable car feel really safe once you are inside (even for those who are scared of heights), it is completely closed in, sturdy and durable. Although it is fast to cross the valley, the pace is sure and steady.
If you've ever felt afraid travelling in a wobbly ski lift, you can rest assured that you'll feel perfectly safe in the Vanoise Express.
Five facts about The Vanoise Express:
It cost more than €15 million (£13 million) to build.
The Vanoise Express officially opened doors it's in 2003.
It operates without any supporting pylons.
The two units can operate separately and both have spare engines.
In December 2013, two slack-wire walkers cavorted between the two cars... we don't recommend you giving this a go!
The Vanoise Express in summer
In the summer months of July and August, The Vanoise Express continues to transport hikers and bikers across the valley. It provides accessibility to so much more of the domain, by foot or by pedal.
The area is well known for a network of hiking paths and The Vanoise Express now allows visitors to explore each side of the valley slopes.
On the Peisey-Vallandry side is part of the GR5 (Grande Randonnée 5) - a renowned hiking path that stretches from Hoek van Holland on the North Sea and ends in Southern France at the Mediterranean, crossing many mountains.
This section of the GR5 leads from the valley floor all the way up to Parc National de la Vanoise (The Vanoise National Park) and visits many interesting villages along the way. Once in the park hikers can cross over to the resort of Tignes.
You will find the downhill bike parks of Les Arcs/Peisey-Vallandry and La Plagne extensive. There is so much to do - a challenge for all levels. And now that The Vanoise Express links the two areas, mountain bikers will find endless terrain.
The Vanoise Express prices
If you have purchased a Paradiski ski pass or bike pass, The Vanoise Express will be Included. It will not be included in individual La Plagne or Les Arcs/Peisey-Vallandry passes, unless you buy a 3 day pass.
Below is an outline of The Vanoise Express prices, subject to change at any time. Please check the Peisey-Vallandry website for up to date Vanoise Express prices.
Winter prices for The Vanoise Express
One way ticket for adult: from €8.
Round-trip ticket for adult: from €14.
One way ticket for a child: from €8.
Round-trip ticket for a child: from €14.
Summer prices for The Vanoise Express
Mountain bikers
Mountain bike : one day: €15 to €35.
Moutain bike : one week: €80.
Moutain bike : season: €145.
Pedestrians
One way ticket for adult: €8.
Round-trip ticket for adult: €14.
One way ticket for a child: €8.
Round-trip ticket for a child: €14.
Pedestrian : one day: €35.
Pedestrian : season: €135.
The Vanoise Express times
1st weekend of July to last weekend of August
Every Tuesday, Wednesday and Thursday between 9am and 12.15pm.
Mid December to end of January
Daily between 9.10am and 4.20pm.
End of January to end of April
Daily between 9.10am and 4.55pm.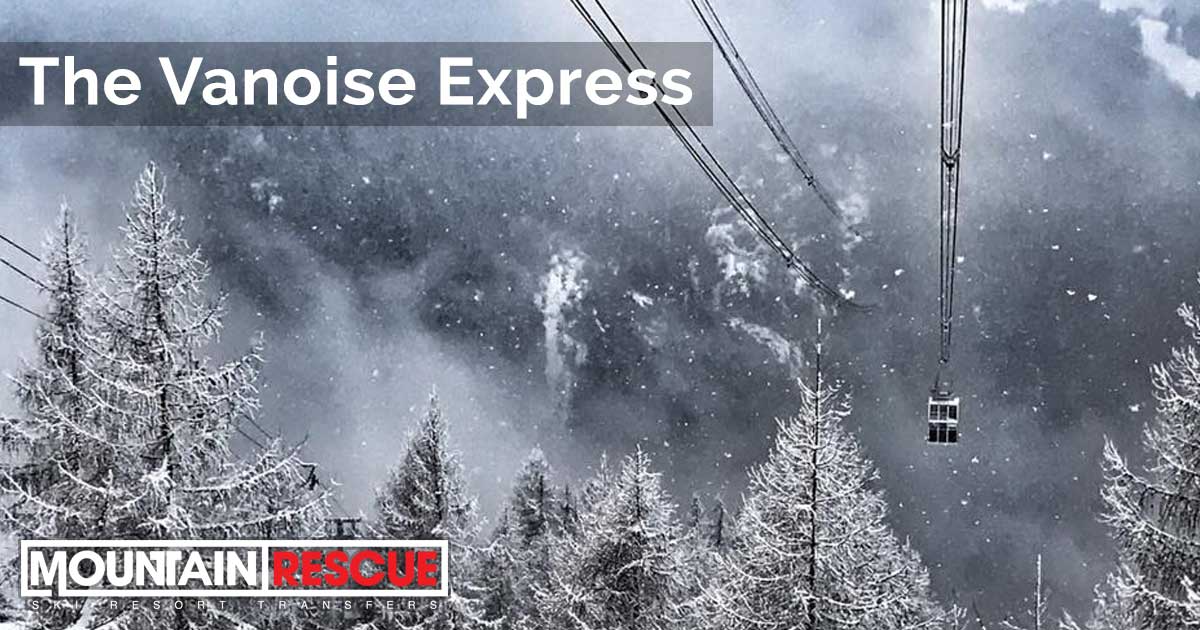 Book your ski transfer now
Just as travelling between Les Arcs and La Plagne is a doddle with The Vanoise Express, so is travelling from the airport to either of these ski resorts (and many more besides) thanks to Mountain Rescue Transfers.
We will pick you up and drop you to the door of your accommodation. As well as return you to the airport in plenty of time when your holiday has finished.
Our service is reliable, affordable and takes all the hassle out of your journey. Click here to book your transfer.