Grenoble Airport Transfers
Grenoble Airport History
Grenoble airport started life as a military aviation field in 1930 of just 1200 metres. It became operational at the initiative of the Chamber of Commerce ahead of the 1968 Olympics and expansion began with the building of the first terminal in 1972.
Today Grenoble handles around 500,000 passengers a year with many different airlines landing planes on the tarmac every hour.
Grenoble Quick Guide
Grenoble airport is 45 kilometres from Grenoble city.
An ATM machine is situated in the main hall.
There are two duty free shops at Grenoble airport but in reality they are no cheaper than a local supermarket.
One restaurant/bar, a newsagent, a snack shop, duty free and souvenir shops are available.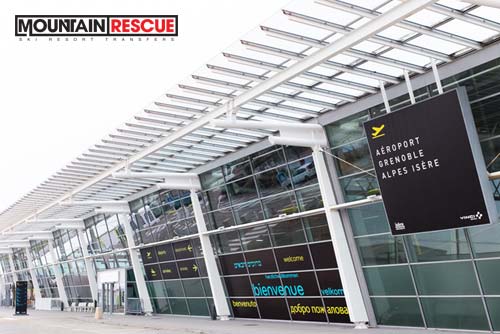 Grenoble Airport Location
Zoom in on the MR pins to view the Mountain Rescue pick-up points in Grenoble airport.
Bars and Restaurants at Grenoble Airport
Remember that Grenoble airport is very small, even with it's recent refurbishment so bars and restaurants are limited.
Le Sequoia
There is one restaurant and bar in departures called Le Sequoia. They serve local and national cuisine.
Please check the Grenoble website, but opening times are:
From Monday to Friday from 8:30am to 4pm
Saturday from 7am to 9pm
Sunday from 7am to 4pm
TRIB's
TRIB's is a snack bar with a variety of sandwiches, salads, desserts pastries available all day, but opening times depends on flights.  Coffee and alcohol is also available here.
Shops at Grenoble Airport
Relay Newsagent
Relay sells books, newspapers, travel accessories, snacks and drinks, tobacco and hygiene/beauty products. Situated in the terminal building.
Duty Free shop
Luxury and high brand products, cosmetics, alcohol and tobacco.
Cheese Maker
Local, authentic farm cheeses available in the departure lounge. Provided by Maison Cardinet, a silver medallist in a French national cheese making competition.
Macaroon Counter
A macaroon is a small cake or cookie, made from nuts and sugar. They are typically french and come in all sorts of beautiful colours. Laurent Goubet, a local pastry chef, chocolate and ice-cream maker, welcomes you to La Régaline.
Terres de Berlioz
Literally translated as 'Land of Berlioz', this small shop offers a selection of local products.