Grenoble airport history
Grenoble airport started life as a military aviation field in 1930 of just 1200 metres. It became operational at the initiative of the Chamber of Commerce ahead of the 1968 Olympics and expansion began with the building of the first terminal in 1972.
Today Grenoble handles around 500,000 passengers a year with many different airlines landing planes on the tarmac every hour.
Grenoble airport guide
Grenoble airport has a good selection of shops and bars to keep passengers busy during the check in procedure including a souvenir shop, tobacconist, newspaper shop.
There is duty free in the boarding lounge.
The pick up and drop off areas are very close to the terminal with 10 minutes free parking. It is 5 euros for anything between 11 minutes to 1 hour.
Maximum height for the drop off area is 2.10 metres. We squeeze our minibuses under to minimise your walking time to and from the terminal.
Grenoble airport passenger Information
Grenoble airport is 45 km from Grenoble city and 84 km from Lyon.
There is an ATM machine in the main hall.
There are two duty free shops at Grenoble airport but in reality they are no cheaper than a local supermarket.
There is a Mc Donald's and Super U (supermarket) with fuel about 1km away.
The main scheduled  flights into Grenoble are operated by  EasyJet, Jet2, Ryanair and Transavia.
Grenoble airport transfers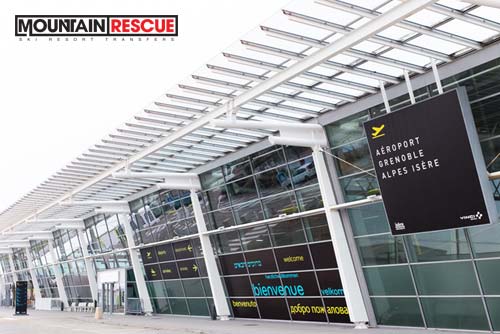 Location
Zoom in on the MR pins to view the Mountain Rescue pick-up points in Grenoble airport.
Grenoble airport snow forecast
<iframe id="forecast_embed" type="text/html" frameborder="0" height="245" width="100%" src="https://forecast.io/embed/#lat=45.360100&lon=-5.332022&name=Grenoble Airport&color=#00aaff&font=Georgia&units=uk"> </iframe>