Geneva to Tignes Transfers
Geneva to Tignes transfers are our most requested. It's not surprising because Tignes is a fabulous ski resort with lots of high altitude skiing. We highly recommend travelling via Geneva airport for its reliability record and ease of access to the mountains. Travel time between Geneva Airport and Tignes is around 3 hours.
Get our best prices and book an airport transfer from Geneva to Tignes with us using the quick quote form.
About Our Transfers from Geneva to Tignes
Mountain Rescue Transfers offer several safe and comfortable options when traveling from Geneva to Tignes (and back)
Private airport transfers ensures sole occupancy of one or more of our comfortable 4 wheel drive VW Caravelles. We meet you at Geneva airport when your flight arrives and take you directly to your accommodation in Tignes or one of the surrounding villages.
For even more comfort and space we also provide a Business Class level of service from Geneva to Tignes.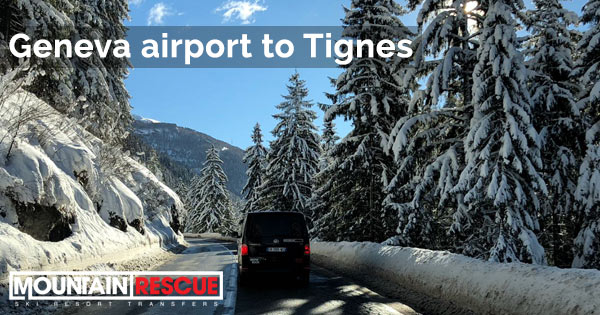 The Journey from Geneva to Tignes
The airport transfer starts on the A41 towards the beautiful town of Annecy, which is built in close proximity to an enormous lake called Lac d'Annecy. Lake Annecy is 14.6km long.
Our driver follows the road close to the side of the lake, which is a very beautiful part of the journey. The mountains rise up from behind the water.
Once past Lac d'Annecy we use main road and pass Albertville and onward to Moûtiers. We travel to Bourg Saint Maurice which is one of the ski towns of Les Arcs.
We go through 'Bourg' (as it is known to locals) and out the other side heading up past Sainte Foy and on to Tignes Les Brévières at 1550 metres.
If your journey takes you further we carry on, over the famous Tignes dam up to 1800 metres and beyond.
We have now arrived in Tignes Le Lac next to the beautiful lake which is frozen in winter.
Val Claret is our furthest destination here and is about a five minute drive from Le Lac.
Mountain Rescue will drop you as close to your accommodation as possible. Get ready for a week of skiing or snowboarding!
The Route from Geneva to Tignes
We videoed the route from Geneva Airport to Tignes, so you can see it, fast tracked. Watch the mountains start to appear in front of the vehicle at Lake Annecy. Get that excited holiday feeling as we finally travel up the mountain through resorts and passed French chalets to our snowy destination of Tignes.
Plan Your Journey from Geneva to Tignes
When travelling on a Saturday - the most popular arrival day in the Alps - Mountain Rescue recommends that you land at Geneva airport as early in the morning as possible.
Early travel will help to avoid any traffic build up that occurs later in the day during the winter months, especially during school holidays.
At Geneva Airport
Geneva Airport has two terminals. We have designated meeting points at both. Meeting points are explained on our booking confirmation form for a smooth meet and greet.
Supermarkets on Transfer to Tignes
Arrive prepared at your accommodation by stopping at a supermarket on the way to Tignes. Supermarket stops must be booked in advance when travelling with Mountain Rescue Transfers. Our favored 'shop stop' on route to Tignes is the Super U at Bourg St Maurice. You can even pre-order shopping and pick it up on the day you travel.
Return Journey Tignes to Geneva Airport
We always arrange a departure time that gives us plenty of time in hand when travelling from Tignes to Geneva. We recommend departing at least 5 hours 30 minutes before the flight.
This will be extended on certain weeks of the season - traffic can be very slow on half terms and holidays throughout the winter.
Travel from Geneva to Tignes with Children
Mountain Rescue has a lot of experience in airport transfers with children. We have customers that have travelled with us year after year and we've seen their  children grow up. We make travel with children as stress free as possible and to help you all enjoy the ride.
All of our drivers are acquainted with child care and will drive in a manor that makes everyone feel comfortable. Please ask if you need to pull over at any time.
Business Class travellers can keep children entertained with our in-vehicle Wi-Fi and iPads.
Child seats on the Geneva to Tignes transfers
Any child under 1.35 metres (4ft 5in) must have an appropriate child seat for travel in our vehicles. We have a range of child seats so we can find one to suit any height or weight. Please book in advance at no extra cost.
Child seats – Rear facing - Maxi-Cosi Cabriofix
For babies from birth to 12 months old.
Weight up to 13kg.
Approved according to the latest European safety standard ECE R44/04.
Child seats – forward facing - Nania Cosmo and Maxi-Cosi Priori SPS plus
For children from 9 months to 4 years old.
Weighing between 9 to 18kg.
Approved according to the latest European safety standard ECE R44/04.
Booster seats
For children of 4 years up to 12.
Weighing between 18-36kg.
Comfortable and sometimes colourful.
Please just request seats for children on booking. If you are not sure what type of seat you require feel free to get in touch.
About Tignes
Tignes is a well-known ski resort in eastern France, which together with nearby Val d'Isère, forms the Espace Killy ski area - renowned as one of the most beautiful ski areas in the world.
The resort is made up of five villages: Val Claret, Tignes le Lac, Le Lavachet, Tignes Les Boisses and Tignes-les-Brévières.
Val Claret, Tignes le Lac and Le Lavachet are close together at an altitude of 2100 metres, while Les Boisses and Les Brévières are further down the valley.
Les Brévières is the oldest and the most traditional village. Each of the villages have their own unique charms.
Find out more about the resort of Tignes on our destinations page >
Ski Resorts Close to Tignes
Tignes is directly connected to Val d'Isère by chairlift. You can enjoy a run down from the highest point in Tignes - from the glacier named the Grande Motte - all the way down blues, to a manageable red run and finish at the bottom point in Val d'Isère La Daille. Click here for a piste map.
Sainte Foy is about 35 minutes drive away from Tignes and well worth a visit if you enjoy off-piste skiing or just fancy a change on quieter runs. The resort is small and very beautiful. There are some wonderful winding runs and easy tree line skiing.
Les Arcs, Peisey-Vallandry and La Plagne are a 1 hour drive from Tignes in good weather and are also well worth a visit. Access all three when you buy a Paradiski resort pass.
Summer Geneva Airport Transfers to Tignes