Tignes resort guide
The mountain resort of Tignes is made up of five villages; Tignes Val Claret (2300m), Tignes Le Lac (2100m), Le Lavachet (2000m), Les Boisses (1850m) and Tignes-Les-Brévières (1550m).
The Tignes ski area links with Val d'Isere to make the 'Tignes - Val d'Isere ski area', the innovative name for what was previously known as 'Espace Killy'.
Tignes has some very high altitude pistes at 3456m and snow making facilities to produce over 400,000m² of annual snow, so there is no shortage of the good stuff. The resort even offers summer skiing on the 'Grande Motte' mountain glacier, amongst other summer activities. 
The highest of the Tignes resort towns were built in the 1960s and the modernist architecture reflects this. Yet, amongst the apartment blocks and hotels, there are numerous 'traditional' style chalets and smaller owner-run operations as well. Les Boisses (AKA Tignes 1800) has recently been developed and offers a large selection of self-catered apartments. Whilst Tignes-Les-Brévières has traditional chalets in a stunning valley location below the impressive 'barrage de Tignes' dam.
On the whole, Tignes is very popular with Brits, and rightly so, the towns offer a wide choice of accommodation, location, bars and restaurants. From the lively Tignes Le Lac to the quieter Tignes-Les-Brévières, each town has its own feel and all have a spot to find a après-ski drink or enjoy a meal after carving up those beautiful pistes.  
Skiing in Tignes
Tignes has as an epic ski area. Connecting to Val d'Isere, the two make an area of 300km of piste with over 150 ski runs linked by a modern lift system. The area offers fantastic skiing for every level of skier. 
The whole area has approximately 23 green, 66 blue, 40 red and 27 black pistes. Further to this there are 2 large snow parks, 2 glaciers and countless off-piste opportunities with the knowledge of a local guide.
The ski area is continually being upgraded and improved, 2018/19 brings a fast open-top (weather dependant) cable car to the Grande Motte glacier, reducing the climb time to a brief five-minutes. 
Tignes ski passes for 2018/19 are €294 for 6 days. Prices can be seen here (Pdf)
Tignes for beginner skiers 
With 23 green pistes there is no shortage of gentle slopes to welcome the beginner to the world of skiing. Each resort town has a nursery slope area and Tignes Val Claret has a carpet lift for the little ones.
An abundance of English speaking ski schools offer lessons and once you progress there are numerous blues dotted around the resort to test your new skills upon. 
Intermediate skiers in Tignes
Tignes is perfect for the intermediate skier with over 60 blue and 40 red runs throughout the area, making everywhere accessible. Val Claret and Tignes Le Lac offer immediate lift access to superb blues. Or take the 'myrtille' piste and wind your way down to Tignes-Les-Brévières.
Do plan ample time to make the return journey.
Tignes for advanced skiers
As advance skier in Tignes you may just think you have found paradise! Numerous challenging blacks and exploratory reds criss-cross the area and give impressive off-piste access.
The picturesque high altitude Leisse black piste (moguls galore) ends in a beautiful view point towards Col De La Leisse. Then you may wish to tackle the infamous 'Face' an epically steep black descent into Val d'Isere. Or take the quieter Sache black that cuts through a peaceful 'reserve naturelle' down in to Tignes-Les-Brévières. 
What we like about Tignes
The Grande Motte mountain with glacier.
The Palafour high speed chair lift.
Masses of great off-piste.
L'Armailly restaurant, Tignes Les Brevieres.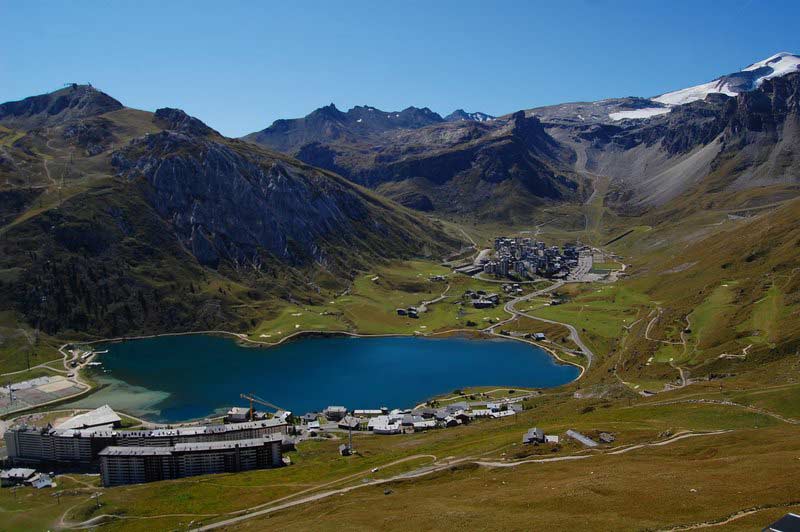 Things to do in Tignes
Torchlight descent: Enjoy mulled wine, food and a torchlit ski run.
Skidoo riding: Moto fun on the snow.
Sports Centre: Sports Complex with ice skating.
Heliskiing: Specialist off-piste adventures.
Tignes isn't just about skiing - it really is an all year all action resort. Depending on where you are staying you will quickly see how much is going on. Tignes Le Lac for example has a massive lagoon swimming pool and spa situated bang in the middle of the piste.
The Lake in Tignes is used for many activities throughout the year, during the winter you can ice dive, which is to dive under the ice and check out the fantastic ice formations and get a bit chilly. Try the Le Bun-J Ride, a ski jump and a bungee jump and a zip wire combined together for a very exciting few minutes. If that doesn't tickle your fancy, they the Ice driving in Tignes Les Brevieres. Strap yourself into a Subaru and spin your way round a race track covered in ice.
If you master the 1992 Olympics downhill course and are looking for a new challenge, there are plenty of other activities on offer in Tignes. You could try your hand at dog sledding, skidoo riding, hang gliding, ski-joring (dragged by horses), parascending, ice climbing, ice skating, snowshoeing, heliskiing and indoor tennis. If you're visiting during the summer months, the resort offers excellent mountain biking and hiking trails. And if you're looking for something a little more relaxing, there are 150 shops and 115 bars in Tignes, along with spa facilities and yoga classes.
Events in Tignes
Halfpipe World Cup: Ultimate freestyle ski and snowboard from the pros.
Euro Snow Pride: Europe's biggest and highest gay pride ski week.
Live in Tignes: Annual three day music festival by the Francophiles.
Tour de France: World class cycling in summer 2019.
Christmas in Tignes is always one to remember, with Father Christmas making an appearance on both Christmas Eve and Christmas Day. With a festive market in the town and an ice disco on offer, you will have the perfect white Christmas at this resort. New Year is also a great time to visit Tignes. Parties and fireworks are a regular feature, including the legendary Fire Mix Party, which attracts DJs such as David Guetta. The breathtaking Eloize Circus is also well worth a visit. Easter is another big event in Tignes, with egg hunts and street theatre to enjoy. Whatever time of year you visit the resort you will find that there is no shortage of entertainment for all the family.
Accommodation in Tignes
Tignes is able to cater for up to 28,000 visitors at any one time. The accommodation is primarily self-catering apartments, which are excellent for chilling out with a group of friends or extended family, but there are also many hotels and excellent catered chalets on offer. So whether you want to cook and relax together or are looking for a more luxurious option you will be spoilt for choice in Tignes.
Chalets
White Horizons: Hosted or self-catered, numerous chalets throughout Tignes.
Ski In Luxury: Luxury chalets in Tignes
Ultimate Luxury Chalets: Luxury ski holidays in Tignes
The Tignes Chalet Company: From 5 to 33 people in classic alpine chalets or hostel accommodation.
Chalet Chardons: Diverse selection of chalets in Tignes and Val d'Isere.
Hotels
Hotel Village Montana: Five star hotel suites, four star hotel rooms and four star residences.
Hôtel Le Refuge: Unique and cosy hotel located by the pistes in Tignes le Lac.
Hotel Genepy: Three minutes from the slopes in beautiful Tignes-Les-Brévières.
Self-Catering
Apartment La Divaria 3: Value self-catering in Tignes Val Claret.
Le Telemark: Four-star apartments with spa complex and concierge service.   
Ski Amis: Selected self-catered apartments throughout Tignes.
Tignes Direct Ltd: Affordable self-catered apartments to rent in Tignes, as well as luxury hotel rooms and suites
Bars and restaurants in Tignes
The Loop Bar: Ski in and out to this large terrace arpés ski venue.
L'Armailly: Restaurant with exceptional wine list in Tignes-Les-Brévières.
Le Moose: Lively, fun sports bar for classic aprés ski action.
Aspen Coffee Shop: Burgers Sandwiches and salads close to the piste in Val Claret.
Airport transfers to Tignes
Tignes to/from Geneva, Lyon, Grenoble and Chambéry airports in comfortable, clean, professionally driven private airport transfer service from Mountain Rescue. 
Journey times to/from Tignes
Geneva, Lyon and Grenoble airports in under 3 hours and from Chambéry airport in under 2.5 hours, weather and traffic permitting.  
Mountain rescue offer
Comfortable vehicles, SUVs and minibuses.
Helpful, smart and professional English speaking drivers.
Free booster and child seats on request.
Free waiting time if flights delayed.
24/7 help from our central office.
Complete the quick quote form on the right of the page or fill out a booking form to get your competitive quote.
Our Alps office will swiftly reply to your request, send your travel details and a link for your secure online card payment. Once payment is complete you will receive a booking confirmation and all the details you require for your journey with us.
Mountain Rescue Transfers is a french registered transport business, licensed and insured to carry paying customers in France and Switzerland.