Tignes resort guide
Made up of 5 villages Tignes has so much to offer - young, old, families, groups and couples.
In the main area of Tignes is made up of Le Lavachet (2000m), Tignes Le Lac (2100m), situated around a Lake and Val Claret (2300m) which is at the top of the valley close to the access point of the glacier.
Then we have Les Boisses/Tignes 1800 which has recently been developed and has a large selection of self catered apartments.
And lastly, Tignes Les Brevieres sits at 1550m. This village has a traditional feel and is a hub for great local food. Travel down to Tignes Les Brevieres to find some excellent skiing and some very good restaurants. The chalets in Les Brevieres are of an excellent standard and there are also some great bars to enjoy after a hard day on the slopes.
On the whole, Tignes is very popular with Brits and has a massive array of self and catered accommodation options. Many big tour operators have chalets here but there are a lot of smaller, owner run operations as well.
Tignes in Espace Killy
Tignes can well be described as an epic ski area. It is part of the Espace Killy ski area, which also covers Val d'Isère.
In total Espace Killy has 300 km of piste and well over 150 ski runs all linked by a very competent ski lift system. The skiing itself is fantastic with truly something for every level.
Expert skiers will be able to find a challenge on and off the piste, whilst beginners and intermediates will enjoy the well groomed blues and reds.
Grande Motte glacier in Tignes
Tignes has a glacier topping at 3550 metres and has one of the best snow records in the valley. The season is very long - starting on the Grand Motte glacier in September and the main area in November.
The glacier is also open in July for some summer skiing in Tignes,  if you fancy it.
What we like about Tignes:
The Grande Motte mountain with glacier
The Palafour high speed chair lift
Masses of great off piste
L'Armailly restaurant, Tignes Les Brevieres
Tignes is a well-known ski resort in eastern France, which, together with nearby Val d'Isère, forms the Espace Killy ski area, renowned for being one of the most beautiful ski areas in the world. The resort was developed during the 1960s and was brought up to such a high standard that it was chosen as the co-host for the 1992 Winter Paralympics. Based in the Savoie region, Tignes offers excellent transport links and is less than three hours' drive from Geneva Airport.
Due to its altitude, Tignes has a very reliable snow record, and is one of only two French ski areas to be recognised as a 'snow-sure' resort. With more than 300km of pistes, extensive off-piste areas and a number of excellent ski schools in the area, it is popular with beginners, intermediate and advanced skiers. The 97 lifts in the resort ensure that visitors are able to get where they need to be without delay. These lifts include two high-speed underground trains, one of which takes guests from Tignes Val Claret to the Panoramic Restaurant on the Grand Motte Glacier.
The Tignes resort is made up of five villages: Val Claret, Tignes le Lac, Le Lavachet, Tignes Les Boisses and Tignes-les-Brévières. Val Claret, Tignes le Lac and Le Lavachet are close together at an altitude of 2,100 metres, while Les Boisses and Les Brévières are further down the valley. Les Brévières is the oldest and most traditional village; however, each has its own unique charm.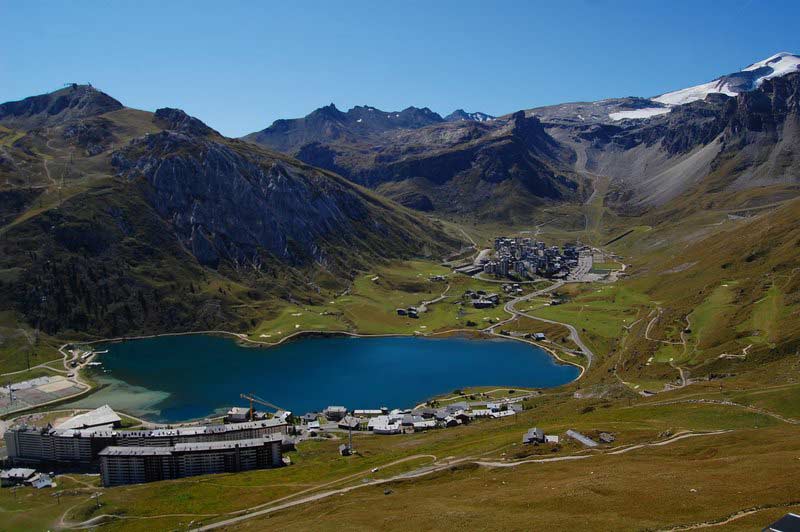 Useful Tignes links
Tignes accommodation
CHALET CHARDONS: Budget hotels up to luxury chalets in Tignes.
Tignes child care
SNOWLITTLE NANNIES: Exceptional and flexible childcare service.
Tignes ski hire
TIGNES SPIRIT RENTALS: Top quality ski & snowboard equipment hire in Tignes.
INTERSPORT: There are shops in Val Claret and in Tignes Le Lac.
SKISET: Skiset has ski shire shops all over the resort of Tignes.
Location of Tignes
Things to do in Tignes
Tignes isn't just about skiing it really is an all year all action resort. Depending on where you are staying you will quickly see how much is going on. Tignes Le Lac for example has a massive lagoon swimming pool and spa situated bang in the middle of the piste.
The Lake in Tignes is used for many activities throughout the year, during the winter you can ice dive, which is to dive under the ice and check out the fantastic ice formations and get a bit chilly. Try the Le Bun-J Ride, a ski jump and a bungee jump and a zip wire combined together for a very exciting few minutes. If that doesn't tickle your fancy, they the Ice driving in Tignes Les Brevieres. Strap yourself into a Subaru and spin your way round a race track covered in ice.
If you master the 1992 Olympics downhill course and are looking for a new challenge, there are plenty of other activities on offer in Tignes. You could try your hand at dog sledding, skidoo riding, hang gliding, ski-joring (dragged by horses), parascending, ice climbing, ice skating, snowshoeing, heliskiing and indoor tennis. If you're visiting during the summer months, the resort offers excellent mountain biking and hiking trails. And if you're looking for something a little more relaxing, there are 150 shops and 115 bars in Tignes, along with spa facilities and yoga classes.
Accommodation in Tignes
Tignes is able to cater for up to 28,000 visitors at any one time. The accommodation is primarily self-catering apartments, which are excellent for chilling out with a group of friends or extended family, but there are also many hotels and excellent catered chalets on offer. So whether you want to cook and relax together or are looking for a more luxurious option you will be spoilt for choice in Tignes.
Events in Tignes
Christmas in Tignes is always one to remember, with Father Christmas making an appearance on both Christmas Eve and Christmas Day. With a festive market in the town and an ice disco on offer, you will have the perfect white Christmas at this resort. New Year is also a great time to visit Tignes. Parties and fireworks are a regular feature, including the legendary Fire Mix Party, which attracts DJs such as David Guetta. The breathtaking Eloize Circus is also well worth a visit. Easter is another big event in Tignes, with egg hunts and street theatre to enjoy. Whatever time of year you visit the resort you will find that there is no shortage of entertainment for all the family.
Airport transfers to Tignes
Mountain Rescue offers private airport transfers to Tignes at extremely competitive prices.
To get to Tignes we recommend flying into Geneva airport as it has the largest amount of flight options and the transfer is the best value for money.
Travel time from Geneva to Tignes is just under 3 hours. Mountain Rescue has drivers based in and around the Tignes area so our local knowledge is hard to beat. 
Our private Tignes transfer service offers
Comfortable 8 seater minibuses
Dedicated English speaking driver
24/7 flight and vehicle monitoring
Free waiting time in the case of delays
Free child facilities
Book your airport transfers to Tignes by using the quick quote from on the right to get a price and make a transfer request.
For more information about the route and times go to our transfer routes page.
Childcare in Tignes
Jelly and Ice Cream: Jelly and Ice Cream provide childcare in the form of private nannies and babysitting services day time or evenings.