Geneva to La Rosière transfers
Mountain Rescue provide private transfers from Geneva to La Rosière. Book us to meet you from your flight and transport you in comfort and saft to ands from La Rosiere. Travel time from Geneva airport to La Rosière is 2 hours and 40 minutes.
Choose our Private transfer service and enjoy Comfortable 4 wheel drive VW Caravelle minibuses including privacy glass, climate control and plenty of space for luggage.
Direct, door to door service with no waiting for other groups. USB charging ports, child facilities, booster and baby seats at no extra cost. For even more space and comfort take a look at our Business Class options.
Use the quick quote form to get our best prices and travel options from Geneva to La Rosiere. Send us your request. We always reply promptly.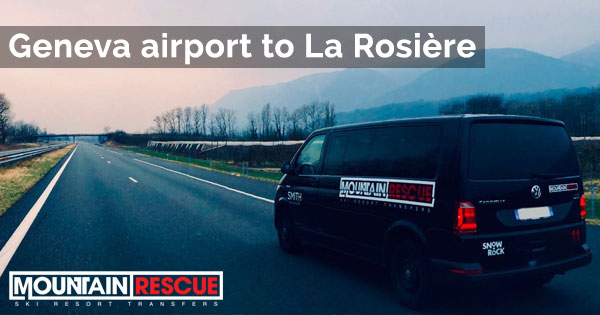 The journey from Geneva to La Rosière
Your Mountain Rescue transfer driver meets you in arrivals of Geneva airport.
Mountain Rescue begins your journey on the A41 towards the pretty town of Annecy, which is built in close proximity to an enormous lake, called Lac d'Annecy which is 14.6km long.
Our driver follows the road close to the side of the lake; a very beautiful part of the journey. In daylight you will notice the mountains rise up from behind the water as we drive.
Once past Lac d'Annecy we follow main road, reaching Albertville. We travel on-wards to Moûtiers and then to Bourg Saint Maurice.
At the town of Bourg Saint Maurice we continue our ascent up through the town of Séez towards the French-Italian border. From Séez it takes about 30 minutes to complete our climb up to La Rosière ski resort, and this is the most stunning part of the drive, as we get a view up and down the huge Tarentaise valley, and over to Les Arcs.
Plan your journey from Geneva to La Rosière
We recommend landing in Geneva early morning if travelling on a Saturday. This helps to avoid any traffic build up that usually occurs later in the day.
Supermarkets on the way to La Rosière
Supermarket stops can and must be booked in advance - a great way to arrive prepared at your accommodation. Our favoured shop stop on route to La Rosière is Super U at Bourg St Maurice. You can even pre order your shopping and pick it up on the day.
At Geneva airport
Geneva Airport has two terminals and we have designated meeting points at both. Meeting points are explained on our booking confirmation form for a nice and smooth meet and greet.
Return journey La Rosière to Geneva airport
Departure time from La Rosière to Geneva will be around 4 hours 40 minutes before your flight time.
This is subject to change on the busier weeks of the season such as school holidays or during bad weather conditions.
About La Rosière
The station of La Rosière is located close to the Italian border and forms part of the L'Espace San Bernardo skiing area. La Rosière village itself is situated at 1850 metres.
This area is renowned for good snowfalls due to its position, as well as catching a good amount of sunshine as it is a south facing resort.
This has become a favourite spot for the adventurous heliski trips into the nearby off piste areas.
Resorts close to La Rosière
La Rosière is quite special as it sits very close to the border of Italy, high up in the Alps. It is part of  L'Espace San Bernardo skiing area, which joins La Rosière with the Italian resort of La Thuile.
By passing over the famous Col du Petit Saint Bernard, skiers can drop down into Italy for a coffee and a pizza and be back in France in a day.
If you'd like to take a road trip, in 30 minutes you can pop down to Villaroger, part of the Les Arcs ski resort. Take the lifts up from the village and ski Les Arcs in no time. The lift pass office is situated in the centre of Villaroger and is really easy to find.
Further afield is Tignes, which is 45 minutes drive from La Rosière and would make a nice day trip, skiing the Espace Killy region, which includes Val d'Isère. Or just visit the swimming pool and cinema!