Geneva to Peisey-Vallandry Transfers
Transfers from Geneva airport to Peisey-Vallandry take around 2 hours 15 minutes. Similar journey time from Lyon and Grenoble airports. Peisey-Vallandry is one of Mountain Rescue's most popular routes. Our head office is based in Peisey village, so we know the area well. Peisey-Vallandry is considered a local pick up and drop off point so our pricing is often very competitive.
Book an airport transfer from Geneva to Peisey-Vallandry using the quick quote form or go to our booking page.
About our Transfers from Geneva to Peisey Vallandry
Our head office and a large number of vehicles are based in the Peisey Vallandry ski area. Its a great location and perfectly placed to give you skiing access to Les Arcs and La Plagne. We offer airport transfers from Geneva to Peisey Vallandry as well as the smaller villages of Peisey, Nancroix and Moulin.
We offer Private airport transfers 24/7 during the winter months and this route is one of our most popular. Private transfers mean you book our service solely for your group. There is no waiting for other groups and you get sole occupancy of one or more of our comfortable 4 wheel drive vehciles. The private transfer service is also door to door so no trudging around with luggage we drop you as near as possible to your accommodation.
Getting to Peisey-Vallandry from Geneva
We follow the A41 towards Annecy, then drive around the proximity of Lac d'Annecy (Annecy Lake). This is a very picturesque part of the journey, if you are lucky enough to be travelling in the day time. The mountains rise up from behind the lake as we drive, so you will start to feel that you are close to the Alps.
After Annecy we pass the city of Albertville on the motorway. Then the small towns of Moûtiers and Aime. Just after the turn for La Plagne we take a right, heading up the mountain to Peisey-Vallandry itself.
The route is a different route from that of Les Arcs, we drive up the other side of the mountains. Heading towards Peisey village you can see the Vanoise Express running overhead.
From the main road the drive is only 15 minutes before you get to Peisey village. Then another 15 minutes until you reach Vallandry and Plan-Peisey.
When travelling on a Saturday we recommend flying to Geneva in the early hours of the morning. This helps to avoid the traffic build up that often occurs later on a Saturday.
On your return journey, we will departure from Peisey-Vallandry around 5 hours before your flight is due to take off. This is subject to change on busier Saturdays of the season.
Plan your Journey from Geneva Airport to Peisey-Vallandry
When travelling on a Saturday (which is the most popular arrival day in the Alps) Mountain Rescue recommends that you land in Geneva early in the morning.
Early travel will help to avoid any traffic build up that occurs later in the day during the winter months, especially during school holidays.
Supermarkets on the way to Peisey-Vallandry
Supermarket stops can and must be booked in advance - a great way to arrive prepared at your accommodation. Our favoured shop stop on route to Peisey-Vallandry is E.Leclerc in Aime.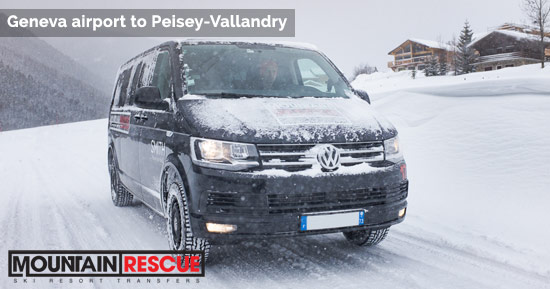 At Geneva Airport
Geneva Airport has two terminals and we have designated meeting points at both. Meeting points are explained on our booking confirmation form for a nice and smooth meet and greet.
Return Journey Peisey-Vallandry to Geneva
We set the departure time when driving you from Peisey-Vallandry to Geneva and recommend to leave 5 hours before your flight.
This is subject to change on the certain weeks of the season, especially on half terms and holidays in winter when traffic can be very slow.
About Peisey-Vallandry
Set in the heart of the Paradiski ski area within the Tarentaise Valley, Peisey-Vallandry is a fantastic resort for beginners right through to advanced skiers.
Peisey-Vallandry is one of three resorts in the Paradiski region linked with Les Arcs and La Plagne, comprising 425 km of pistes. There is also a number of safe off-piste areas.
The town is built in the traditional alpine style with attractive wooden chalets nestling among the mountains, providing stunning views in all directions.
Download the Paradiski YUGE app (covering Peisey-Vallandry, Les Arcs and La Plagne)
Resorts Close to Peisey-Vallandry
The better known resorts of Les Arcs and La Plagne are connected to Peisey-Vallandry via a network of ski lifts. We love Peisey-Vallandry because it is that bit smaller, so has a personal touch.
The Espace Killy resorts of Tignes and Val d'Isère are just an hours drive away from Peisey-Vallandry, so worth a visit if you are feeling adventurous. Just call Mountain Rescue to book your transfer.