Sainte Foy resort guide
Sainte Foy,  at 1550m altitude, is nestle in the mountains high above the road that connects Les Arcs and Tignes. Go further toward La Rosière and you start to descend into Italy.
To say the least Sainte Foy is a beautiful resort that frequent visitors have long kept a secret and it has spectacular views.
The village of Sainte Foy itself has conserved its original charm, with lots of alpine chalets and tastefully built apartments, so it is a lovely place to stay. There is a  listed hamlet nearby called Le Monal, which visitors can walk to.
Sainte Foy resort have made every effort to be as environmental friendly as possible. Their trail groomers have been converted to use environmentally friendly, bio-degradable fuel, the workshop and garage is equipped with a biologic grease disposal unit and a hydrocarbon separator to help treat waste and residue.
On the practical side Sainte Foy has two grocery stores, five restaurants, two bars and six ski hire shops!
Sainte Foy is a brilliant place for families. The quieter ski slopes, well located chalets and excellent ski schools make for many happy and returning customers year after year. Just don't tell everyone!
Skiing in Sainte Foy
Being a smaller resort, the slopes of Sainte Foy are generally quiet. There is currently 35km of pistes and an excellent amount of reasonably easy-access off piste areas for the more adventurous skier or boarder. There are high open runs with great views and lower pistes that wind through the trees.
Sainte Foy lift passes for one adult are around 174 euros for a 6 day week - so very reasonable. There are free days or discounts offered with the lift pass for other resorts, such as Val d'Isère or Tignes, Les Arcs, La Plagne, l'Espace San Bernardo and La Rosière.
New runs are frequently being created, so make sure you check the tourist website for updates.
Beginner skiers
Because it is so quiet, Sainte Foy is great for beginners. There are two green slopes very close to the resort village called Marmottes and Galopins. And once you have your confidence up a little more, there are two large blue runs which lead back to the village. There is only one way so you can't get lost. These are both accessed by the Grand Plan lift.
Intermediate skiers
With plenty of quiet red and blue runs, Sainte Foy would also be good for the intermediate skier, getting their bearings for the week. The mountain is easy to navigate and there are plenty of forest runs for practise in the trees.
Advanced skier
Having lesser pistes than some resorts, Sainte Foy may not appeal to advanced piste skiers. Having said that, with such a beautiful village and some free days in other resorts Sainte Foy may be a super base for you. There are some truly stunning views and great mountain restaurants, so experienced skiers that enjoy long lunches will love this resort. There are four challenging black runs.
The more adventurous advanced skier will love Sante Foy! There are plenty of off piste routes to take with a mountain guide; one leads skiers through the ancient hamlet of Le Montal, another being the north face of the Fogliettaz.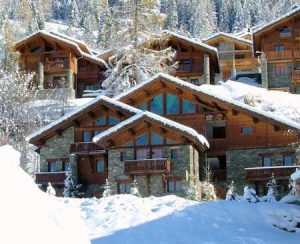 Useful Sainte Foy links
Tourist information
Ski schools
Snocool: Group lessons, private lessons, adults, children, off-piste, heli-skiing and boarding. Snocool has got it all.
ESF (École du ski français): The oldest french ski school in the area.
Evolution 2: Small ski groups for better progression. Whatever your level or progression.
Ski hire
Ski Republic: For skis to be delivered to your accommodation.
Intersport: Top ski brands Sainte-Foy Intersport ski rental.
Skimium: Up to 50% discount when booking online.
Location
What we like about Sainte Foy
Cheap ski passes.
Quiet skiing.
Excellent off piste.
Family friendly.
Well located ski chalets.
Tree runs.
Things to do in Sainte Foy
Sledging: There is a small sledging hill next to the Galopins run, perfect for younger children.
Accommodation in Sainte Foy
Bars and restaurants
Le Monal: A cosy bar/bistro and also a restaurant for those looking to dine.
Yeti Boots Café: On the ski slope next to the ESF office. Burgers, sandwiches, après. Eat in or take away.
Le Saint Germain: Fine wines, champagnes, Savoie products, exceptional food. Again near the ESF office.
Eden's Kitchen: Ski-in, ski-out terrace at the end of piste Savonette. Enjoy the best BBQ in an array of fusions and styles, all based on locally butchered meats.
Les Marquises: On the slope near the bottom of the chairlift of Marquises.
Childcare in Sainte Foy
Jelly and Ice Cream: Jelly and Ice Cream provide childcare in the form of private nannies and babysitting services day time or evenings.
Kids club:  Les P'tits Trappeurs take children between 3-11 years. 8:45am until 4:45pm, every day except Saturday. Located in the centre of Sainte-Foy, next to the tourist office and ski pass office.
ESF: Ski club and day care can be booked through ESF (École du ski français), who all speak perfect English.
Airport transfers to Sainte Foy
Mountain Rescue offers private airport transfers to Sainte Foy from Geneva, Lyon, Grenoble and Chambéry airports.
Transfers between Geneva, Lyon and Grenoble airports to/from Sainte Foy take around 2 and a half hours.
Sainte Foy is 1 hour 45 minutes from Chambéry airport. 
Mountain Rescue Transfer service includes:
Clean and comfortable Volkswagen Caravelle minibus.
Smart, helpful and English speaking driver.
Child and booster seats on request.
Free waiting tile in the case of delays.
24/7 help from our Alps office.
Get your trip to the good stuff secured, book a transfer with Mountain Rescue.