Transfers Grenoble to Tignes
Book airport transfers from Grenoble to Tignes with Mountain Rescue. Transfer time from Grenoble airport to Tignes is just under 3 hours. Choose our Private transfer service and enjoy Comfortable 4 wheel drive VW Caravelle minibuses including Privacy glass, climate control and plenty of space for luggage.
Direct, door to door service with no waiting for other groups. USB charging ports, child facilities, booster and baby seats at no extra cost. For even more space and comfort take a look at our Business Class options. All journeys are operated with the utmost professionalism and with your comfort and safety in mind.
To book an airport transfer from Grenoble to Tignes use the quick quote and booking form.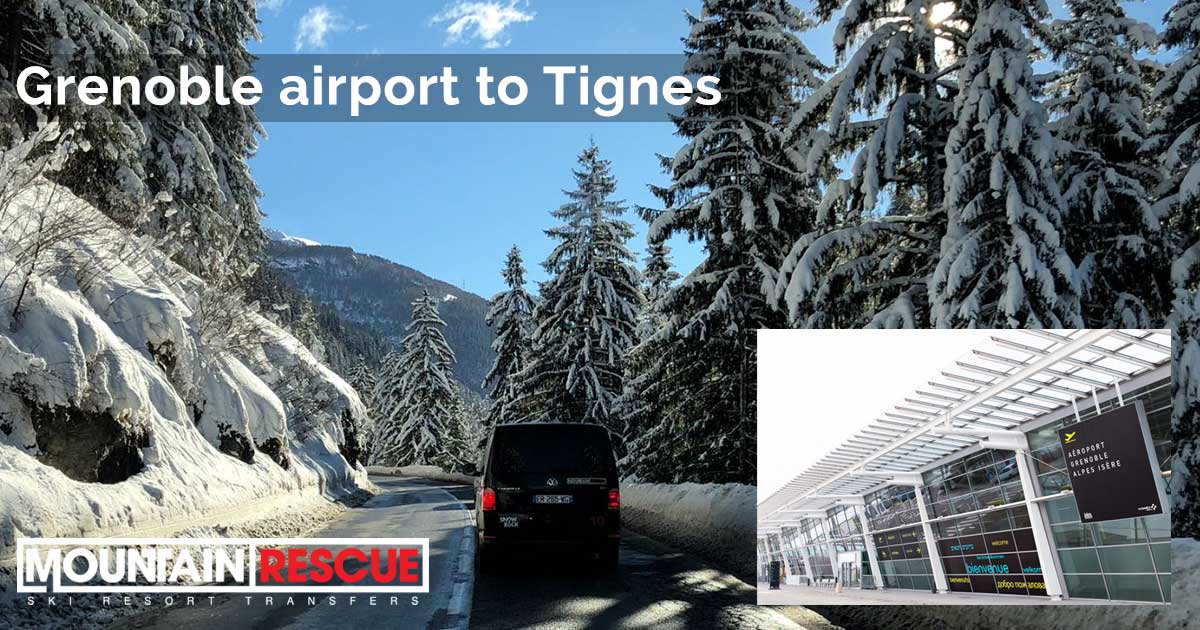 About Our Grenoble to Tignes Transfers
We offer private airport transfers from Grenoble to Tignes all year round. During the winter months we operate 24/7.
The private transfer service enables you to book a vehicle and driver solely for your group. Our driver will meet you from your flight and whisk you off to Tignes, getting you as near to your residence as possible. No waiting around for other passengers. No trudging around resort with luggage looking for accommodation. 
Arrive from Grenoble to Tignes in our comfortable VW Caravelle minibuses which seat up to 8 passengers, all with skis. There is plenty of legroom to spare. 
Our fleet includes 4 wheel drive models with tinted windows, USB charging and individual climate control. All vehicles are modern and well equipped for the winter environment.
Getting to Tignes from Grenoble
Tignes is just over 200 km away by road and there are two routes we can take.
We either head towards the A43 past Chambéry or directly towards Grenoble and skirt around the edge of the town itself. 
Routes are changed depending on weather and traffic on the day.
Once we reach Albertville we head in the direction of Moûtiers then drive half an hour or so to arrive at Bourg Saint Maurice. This is the base camp for the resorts of Les Arcs and we are an hour away from Tignes.
Bourg Saint Maurice is the main town which services local resorts.
It's best to travel this road early in the morning because in the afternoons the roads get congested, even with a big effort to redirect traffic around the town. 
Les Brevieres is the first of the Tignes resorts we arrive at then we head over the dam to make our way to Le Lac and Val Claret.
Mountain Rescue recommends landing in Grenoble pretty early in the morning if you're travelling on a Saturday. This will help to avoid waiting in traffic build up.
Departure time from Tignes to Grenoble will normally be around 5 hours 30 minutes before your flight time. This is subject to change on the certain weeks of the season.
Grenoble Airport
Grenoble airport (also known as Alpes–Isère Airport) has recently been refurbished and the both arrivals and departures are better equipped than before. It is still a small airport so don't expect the amenities of Heathrow.
There is one restaurant - Le Sequoia which serves international food. TRIB's snack bars are dotted all around in both arrivals and departures. 
You'll find a newsagent, a duty free shop and various places to buy souvenirs such as cheese!
The airport is not close to Grenoble itself - a half hour car journey so it isn't convenient to pop into the city. A couple of small hotels are close by for an overnight stay - Logis Hotel and Hotel La Ferme de Thoudiere. We've not stayed at either ourselves.
Tignes Low-down
Tignes is pronounced 'teen', rather than 'tig-ness'. It's within the ski domain known as Espace Killy along with Val d'Isère. It is possible to ride the lift system and ski between the two huge areas, which opens up an immense abundance of pistes. 
There are five villages of Tignes - the pretty village  Tignes Les Brevieres is at 1550. This is the first village we drive passed coming up the mountain, before the lake. We then arrive at Tignes 1800 (formally Tignes Les Boisses) which is on the north side of the lower lake.
Continuing our climb upwards we pass Tignes Le Lavachet on the left and then Tignes Le Lac at 2100m. Beyond the lake is Val Claret - this is where we recommend you go if you want to party hard. All of the Tignes resorts have direct access to the ski slopes and a very fast lift system, so take your pick.
Beginner skiers may prefer Le Lavachet, Tignes Le Lac or Val Claret. They each have great beginner areas. There's also a small magic carpet for children in Tignes 1800. 
Good restaurants and bars are found all over the area. On a sunny day, ski to Tignes Les Brevieres a slop side lunch - we recommend L'Armailly.  Tignes Le Lac has snack bars and burger joints close to the piste. Val Claret has an array of excellent places metres from the piste.
Tignes is one of the liveliest resorts in the Tarentaise valley.  During the summer months it opens up its mountain bike park and the lake that turns into a playground for outdoor enthusiasts. 
There are wellness centres dotted around. The main public swimming pool is at Tignes Le Lac and so are the many of the summer activities around the Lake. The areas are well connected by buses.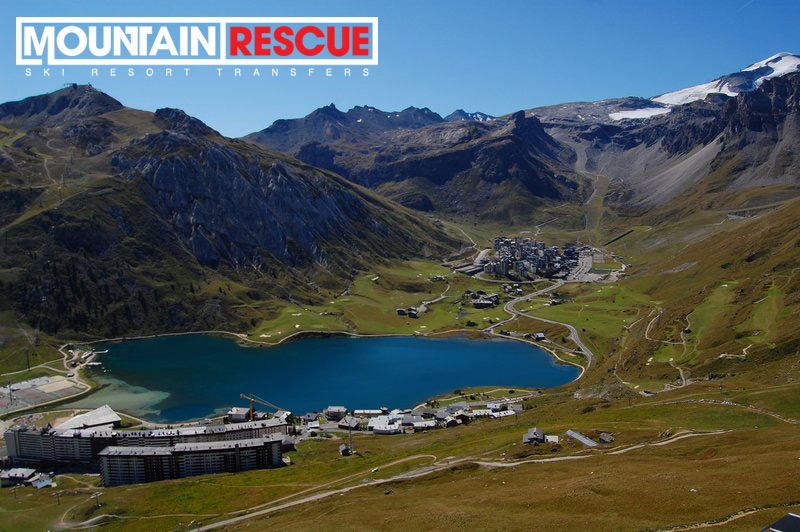 Stops on the way from Grenoble to Tignes
Supermarket stops can and must be booked in advance - a great way to arrive prepared at your accommodation. Our favoured shop stop on route to Tignes is SuperU in Bourg Saint Maurice. It's a big supermarket, so be organised with the group's needs. You might get lost!
There is also a café, book shop and toilet at SuperU so it could be a good place for a pit stop.