Geneva airport to La Tania transfers
Geneva airport to La Tania takes 2 hours and 15 minutes. As part of the municipal of Courchevel, La Tania is well linked to Méribel and the rest of The Three Valleys (Les 3 Vallées).
Mountain Rescue provide private transfers from Geneva to La Tania, 365 days of the year.
To book a private door to door transfer from Geneva to La Tania complete the quick quote form or go to our booking page.
Geneva to La Tania route map
The journey from Geneva to La Tania
Your Mountain Rescue transfer driver meets you in arrivals of Geneva airport.
Mountain Rescue begins your journey on the A41 towards the pretty town of Annecy, which is built in close proximity to an enormous lake, called Lac d'Annecy which is 14.6km long.
Our driver follows the road close to the side of the lake; a very beautiful part of the journey. In daylight you will notice the mountains rise up from behind the water as we drive.
After Annecy we pass the city of Albertville on the motorway, and once on the main road we pass the small town of Moûtiers, just after which we start to make our climb up the mountain. We head towards Courchevel, but turn off beforehand heading to the resort of La Tania.
La Tania is about 35 minutes from Moûtiers.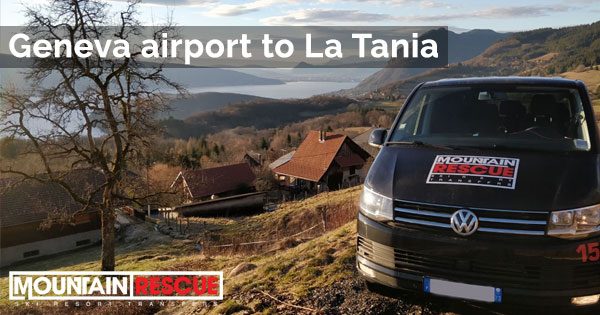 At Geneva airport
Geneva Airport has two terminals and we have designated meeting points at both. Meeting points are explained on our booking confirmation form for a nice and smooth meet and greet.
Plan your journey from Geneva to La Tania
We recommend landing in Geneva early morning if travelling on a Saturday. This helps to avoid any traffic build up that usually occurs later in the day.
Supermarkets on the way to La Tania
Supermarket stops can and must be booked in advance - a great way to arrive prepared at your accommodation. Our favoured shop stop on route to La Tania is Carrefour at Moûtiers.
Return journey La Tania to Geneva airport
Departure time from La Tania to Geneva will be around 4 hours 15 minutes before your flight time.
This is subject to change on the busier weeks of the season such as school holidays or during bad weather conditions.
About La Tania
Sitting at 1400 metres in the tree line, La Tania is part of Courchevel, so is well linked with The Three Valleys ski area. La Tania is generally good value for money compared to it's neighbouring, larger resorts such as Méribel. And it is a real gem, situated at the bottom of some fantastic runs.
It is the newest resort in The Three Valleys and is still growing.   Originally built in 1990 by the architect Jacques Labro using natural materials to blend the village into the mountain side.
The village enjoys a relaxed feel and has some very pleasant bars to enjoy after the day skiing.
Read more about La Tania here > 
Resorts close to La Tania
Skiers can easily access Méribel, Val Thoren and the villages of Les Menuires & Reberty.
Peisey-Vallandry can be accessed by road and is an about an hour, from Peisey-Vallandry you can easily ski over to Les Arcs, or take the Vanoise Express to La Plagne. Make sure you buy a full Paradiski pass if you'd like to visit all areas.
By road from La Tania La Plagne can be accessed in 1 hour 10 minutes if you'd prefer to do this side of the valley alone.