By: Lewis Williams (member of the Mountain Rescue Team)
The experienced drivers of Mountain Rescue Airport Transfers are regularly driving in snow and ice. However much we all love the white stuff, we well know that it can cause a heap of problems. Especially if you are driving in an Alpine ski resort.
Weather conditions can change rapidly in the mountains. We have written this post to help you out!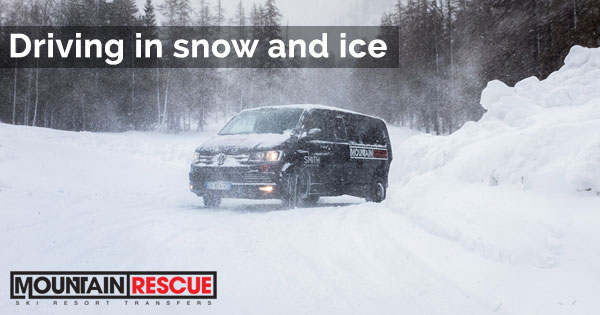 If you are driving your group or your family to Espace Killy, The Three Valleys or Paradiski we have a multitude of driving tips for icy roads and for driving in the snow. Safe driving!
Recent regulations
From November 1sé 2021 until the end of March 2022 you are now required by law to carry a set of snow chains/socks or have your vehicle fitted with winter tyres.
This recently imposed law can be enforced in 48 departments, including our very own Savoie and Haute-Savoie.
Drivers not complying with the regulations can be fined 135.00 euros and their journey prevented.
More information can be found in French here on the French Road Safety Website
Snow tyres
Snow tyres are awesome! The improved grip on snow and ice is considerable and noticeable. Normal tyres get harder with lower temperatures, the tread fills with snow and you loose grip. Snow tyres stay softer in the cold, which enables snow to fall out of the tread so they can re-grip the snow on each rotation.
Our fleet is equipped with Nokian snow tyres and we highly recommend them.
At present snow tyres are not a legal requirement in the alps, but life, or at least the snow, is easier with them.
Socks and Chains (…or Studs?)
Whether you have snow tyres or not you still need to carry snow chains or socks. It is useful to have a pair of snow socks tucked away in your car because they can be easily stowed as they fold flat and take little space.
Unfortunately snow socks are less suitable for prolonged driving in snowy conditions. Snow socks may help you get out of a sticky situation but may struggle to handle the punishment when the big dump of snow arrives and your driving 30km up a mountain to Val Thorens. With excessive driving snow socks can 'walk' or slip from the tires as you drive, or catch on the bodywork and tear. We use and recommend snow chains.
There are many varieties of snow chain, too many to cover here. You'll need to check your vehicle handbook to see what is suitable for your vehicle or seek advice from a dealer. We prefer 'traditional' snow chains, they are fitted to the two drive wheels and then tightened up after 50m of driving. Once they are securely fitted they will give great traction and reassurance as you trundle on your jolly way up the mountain.
But what about studded tyres so you can race up those crazy switch-backs? Think again! Studded tyres are only permitted from December to late March (dates subject to change) and are not recommended unless you live at extreme altitude and won't ever be driving on tarmac.
Check it out
Delays are created by drivers getting stuck in the snow and putting snow-chains on, or abandoning vehicles in unexpected places. On busy weekends be prepared for a little chaos, especially if it snows heavily.
It is well worth spending some time to practice putting the chains on before you make your trip. All our drivers refresh their chain 'putting-on-skills' at the beginning of the winter, because there is nothing worse than being at the side of the road in -10 °C, in the dark, getting splashed by slush as you frantically get entangled in snow chain. It's an art to fit snow chains quickly and calmly and well worth the practice.
It also useful to pack a head torch and thin water proof gloves to aid you in attaching the snow chains.
Where and When?
Snow chains and socks limit your speed to approx 40 km/h maximum. If there is no snow on the road you don't want to be ambling along the motorway at such a low speed, for safety's sake. But neither do you want to be stuck half way round a snowy hairpin trying to put your chains on. Luckily there is a way to judge this. The French road signage uses a few signs to help us out.
French mountain roads display a blue sign of a wheel with a chain on the tyre. This denotes that in snow you will require snow chains.
You may see 'pneus neige admis' written below the sign, in this case chains are not required if you have snow tires fitted. But, even if you have snow tires, use your judgement as to whether you should put your chains on.
The sign 'équipements speciaux recommandes' may be displayed on electronic signage as you enter the mountains. This sign indicates that it is likely you will encounter the need for chains (or socks) as you gain altitude, so keep vigilant. When there is snow on the road you should make a judgement as to whether you should put the chains on.
Alternatively you may see 'équipements speciaux obligatoire', this sign may be displayed as you join a specific road to a ski resort or mountain pass. It means when you encounter snow on the road the use of chains is mandatory and you should put chains on.
French mountain roads display a blue sign of a wheel with a chain on the tyre. This denotes that in snow you will require snow chains.
You may see 'pneus neige admis' written below the sign, in this case chains are not required if you have snow tyres fitted. But, even if you have snow tyres, use your judgement as to wether you should put your chains on.
Most major roads in the French alps have specific areas for putting on chains. The 'Aire De Chainage' is where you should stop and put your chains on.
Similarly on the descent there are areas marked 'Aire De Depose Chainage' and, you guessed it, thats where you should stop to remove chains once there is no snow.
Bonne Route!
Most journeys in the French alps can be made relatively stress free on clear roads. But the weather in the mountains changes quickly and around ski resorts, at peak periods, traffic can become heavy. Every year there are delays and times of heavy snow, so it really is necessary to be prepared.
Like us, you should check your route, give ample time, have chains to hand and equip your vehicle with quality snow tires for any snowy mountain adventure.
This is by no-means a definitive guide but we hope it gives an idea of what to expect and what to look out for as you enter the beautiful snowy mountains.
Bonne route!
The Basic Kit
All our vehicles carry spare bulbs, warning triangle and high-vis vests as French law requires. Our fleet are equipped with Nokian snow-tyres and carry snow-chains stowed in an easily accessible place.
In addition to these essentials we recommend carrying:
ice scraper
torch (for attaching snow chains in the dark)
first aid kit
jump leads
gloves (for attaching snow chains)
shovel
sunglasses (to look good! …and because of the low winter sun)
Preparation
We pride ourselves on being bang-on-time to collect guests. How do we do this? Time! …and lots of it!
Our drivers are given ample time to reach their guests, especially in challenging conditions. This enables them to prepare their vehicles and have time to cope with any unexpected delays.
To prepare we start the vehicle, turn up the heating and screen de-mister, turn on the headlights (to melt any ice), have a brew and check the road conditions in the Tarentaise valley. Then clear all snow from the windows, mirrors and the top of the vehicle with a broom (braking on an steep descent can cause snow on the roof to slide over your windscreen and severely restrict your view). Finally, dig out any snow from around and in-front of the wheels.
Then once all that powder and ice is cleared run through the POWDERY checklist:
P - Petrol (or diesel) - Got more than enough fuel for your journey?
O - Oil - Got enough oil?
W - Water - Got radiator water? Screen-wash? Drinking water?
D - Damage - Check vehicle for damage. How are your windscreen wipers?
E - Electrics - Are your lights, heating and de-mister working ok?
R - Rubber - Check tread and inflation on tyres. Are your chains or socks easily accessible in the vehicle?
Y - Yourself - Are you rested and feeling fit for a long journey?
.
On The Road
Obviously, it is sensible to drive at a lower speed on snow or in cold temperatures. Even if the road is clear of snow, ice may persist. Gain traction by staying in a high gear and accelerating gently and when breaking softly apply pressure to the break pedal. If you have a safe place, away from other road users, try your brakes a little harder to get a feel for the grip on the road.
It is possible that not all road users are as vigilant, careful and considerate as you. Check your mirrors often, keep your distance from vehicles in front and don't feel pressure to accelerate away from vehicles that are too close behind. Pull over at a safe place to let impatient drivers pass. Drive defensively, it is best to concentrate on your own driving and not let other road users phase you.
To add a bit more spice to the winter conditions we have to contend with hair-pin turns (or 'switch-backs'). The best method to negotiate an acute turn is to break slowly on the straight before the bend then steer smoothly round the bend without sudden breaking or change of direction. (Vehicles can slide when simultaneously braking and turning on ice). With a little practice this becomes second nature.
When do we need to put chains or socks on? See this blog post.
Fog
In the mountains it is common to encounter fog. Use your fog lights and switch off full beam (full beam can reflect back from the droplets of water in the air making it more difficult to see the road). De-mist your screen as this can mist up unnoticeably. Reduce your speed and don't be tempted to follow the tail lights of other vehicles too closely!
In the event the fog becomes too dense, don't panic, pull over and wait… fog is often patchy and may clear as quickly as it arrived.
More Mountain Rescue Tips!
Check your route - many mountain roads and passes are closed in the winter
Take major roads as they are ploughed more frequently than minor roads
Respect the snow ploughs - do not try and overtake unless you have a snow-free lane available
Be vigilant of buses and large vehicles on hairpins - they may need to 'swing out' to make the corner
When parking on an incline turn your wheel toward the side of the road - so if your vehicle slips or is nudged it goes into the verge
When parking your vehicle lift your wipers - this prevents them freezing to the windscreen or being damaged from heavy snow, especially if you accidentally left them on
And Finally
Our professional drivers spend a lot of time on the road and although the majority of journeys are on snow-free roads we often encounter adverse conditions. We see how quickly the weather changes and how easy it is to be 'caught out'. In such circumstances experience becomes a key factor, but we hope our winter driving advice highlights that with good preparation, lots of time and conscientious driving, risk and delays can be minimised.
Bonne route et bon ski!
.