Transfers from Geneva to Sainte Foy
Transfers from Geneva to Sainte Foy ski resort take around 2 hours 30 minutes, this of course is subject to traffic and weather. This gem of a resort is one of our local haunts and we drop here frequently working closely with several chalet companies, hotels and the tourist office.
We have a hard core of drivers living year round in Sainte Foy Tarentaise the village on the main road the D902 that heads up to Tignes and Val-d'Isère. So its likely to be a real local delivering you to resort and if you ask they will be only too happy to share a bit of their knowledge on route.
About our Transfers from Geneva to Sainte Foy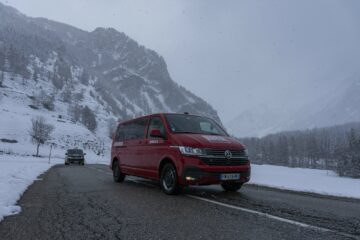 Private airport transfers from Geneva, Grenoble, Chambéry and Lyon airports direct to your ski resort. Sole occupancy in one or more of our comfortable 8 seat Volkswagen Caravelle minibuses. No waiting for other groups, direct to your chalet and highly rated.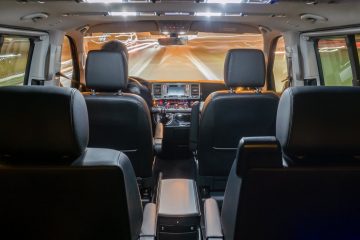 Choose space, comfort and the little extras by traveling Business Class this winter. Our premium vehicles come with leather seating, permanent 4-wheel drive, privacy glass, on-board WI-FI, iPads with a selection of films and USB charging ports.
The Journey from Geneva to Sainte Foy
One of our smart and helpful driving team will meet you you from your flight at Geneva Airport. If you are landing in terminal 1 then follow signs through to the Swiss side. Here we have a designated meeting point as we do for terminal 2.
We follow the A41 towards Annecy, then drive around the proximity of Lac d'Annecy (Annecy Lake). This is a very picturesque part of the journey, if you are lucky enough to be travelling in the day time. The mountains rise up from behind the lake as we drive, so you will start to feel that you are close to the Alps.
After Annecy we pass the city of Albertville on the motorway. Then the small towns of Moûtiers and Aime. The route then takes you through Bourg Sainte Maurice and out the other side on the D1090.
Driving through Seez, a small town close to La Rosiere, we then start to head in the direction of Tignes and Val dI'sere, arriving at the village of Sainte Foy Tarentaise after about 8km.
Just after here we turn off to a steep, but very pretty, tree lined road that brings us out by the ski station of Sainte Foy.
Plan your journey from Geneva airport to Sainte Foy
We recommend landing in Geneva early morning if travelling on a Saturday. This helps to avoid any traffic build up that usually occurs later in the day.
Supermarkets on the way to Sainte Foy
Supermarket stops can and must be booked in advance - a great way to arrive prepared at your accommodation. Our favoured shop stop on route to Sainte Foy is Super U at Bourg St Maurice. You can even pre order your shopping and pick it up on the day.
Return journey from Sainte Foy to Geneva airport
Mountain Rescue will advise of your transfer time; we like to leave about 4 hours 30 minutes before your flight time, but this is subject to change if the weather comes in or traffic is expected. When booking we pass over an estimated pick up time for the return journey, this is confirmed by email and text at 16:00pm the day before you travel. Our Alps office is available 24/7 if you wish to discuss anything at all. Our objective is to get you and your group to the airport in good time.
About Sainte Foy
Located in the Tarentaise Valley in the Savoie region of south-eastern France, Sainte-Foy-Tarentaise is just over two hours from Geneva airport, making it fairly easy to get to.
The old village lies between Bourg-Saint-Maurice and Val d'Isère and is just a stone's throw from the ski resort, which is located at an altitude of 1550 metres.
The resort offers a vertical drop of just over 1,000 metres from the highest point at the Col de l'Aiguille. It comprises approximately 20 pistes, with options for all ability levels.
Video of Sainte Foy ski resort