Booked a ski break? If you're already planning your perfect weekend, you'll appreciate this article which no doubt features even more ways to ensure you enjoy your best holiday yet.
The great news is that even non-skiers will discover there's more to Tignes than simply snow and slopes. From relaxing time spent in your ski chalet to days and evenings exploring the local area, you certainly won't be stuck for things to do.
If winter activities are your thing, there are loads – from the full-on, adrenaline-based to the not-so-scary, family attractions – you're bound to find something to do that has your name stamped all over it. To help you, here's just five things we've found that will help make your weekend even more perfect:
Ice Diving
Now, this one's not for the faint-hearted! Ice diving will see you submerge yourself in – you guessed it – the icy depths of a body of water - brrrr! Allowing you to explore the wildlife below, you simply plunge into a lake and give diving under its icy layers a shot. Like we said, it's not for the faint-hearted; check out a local adventure company, who'll give you all the equipment and instruction you need if you fancy giving it a go.
Mountains at Height
Okay, so we're not talking about you actually scaling the mountains yourself. Instead, try a Tignes helicopter tour which, weather permitting, provide a great way to see the local sights properly. Kick back and relax, taking in the stunning views; glaciers, alpine forests and snow-topped mountains are just some of the mesmerising things you'll be able to marvel at.
Go 'Geocaching'
New to Geocaching? You'll love it! There are over 2.5 million people getting involved in the fun pastime around the world – and there's loads of spots in Tignes to give it a go. A relatively new craze – popping up in around May 2000 – Geocaching was developed by a computer geek who hid some treasure at his home in Portland in the US.
After broadcasting the GPS coordinates and asking people to locate it, the rules were pretty simple 'Take some stuff and leave some stuff'. A really fun hobby for adults and big kids alike, Geocaching allows the whole family to become adventurers for the day – give it a go!
A ride with Husky Dogs
If you're hesitant when it comes to stepping – or rather sliding – out on two skis, you'll love the chance to experience the snow via a husky dog ride in Tignes. Drive along forest paths with a team of excitable dogs, or sit back in the sled while your guide does the hard work for you – just make sure you wrap up warm, either way!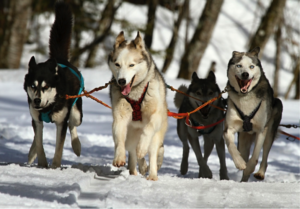 Head Straight to the Spa
If none of the above are quite your thing, instead choose to relax and unwind in the comforting cocoon of an indoor ski resort spa. There are plenty of them around and it'll give you a chance to escape the icy cold weather for a while as you thoroughly chill out.
Give your skin a winter treat with a soothing facial, or choose a body scrub or full body massage for the ultimate in relaxation during your break. You'll be so relaxed, you won't want to leave the spa following your treatment. The only thing to do next is head to your chalet, pop your slippers on and crack open a bottle of wine by the fire - ah, bliss!
So if you're looking for something to do during your ski break, why not check out some of our suggestions above? Ensuring you plan your trip in advance means you'll be able to pack many more activities into the available time!