Les Arcs Transfers
Airport transfers from Geneva to Les Arcs will take just under three hours depending on which part of Les Arcs you are staying. Mountain Rescue offer Geneva to Les Arcs transfer 365 days of the year and are based in the Les Arcs ski area. 
Something to consider: Saturday is often the quietest day of the week on the slopes as everyone is traveling. Why not fly into Geneva late Friday, book a night in a Geneva airport hotel, we will collect you first thing to get out on empty slopes Saturday morning! 
To book a private door to door transfer from Geneva to Les Arcs simply complete the quick quote on the right of the page, get your competitive quote and request a transfer.
Getting to Les Arcs
One of our beautiful drivers  will meet you in the arrivals area on the Swiss side of the airport and take you directly back onto the French boarder control. Following the A41 all the way towards Annecy. You then follow the route close to the lake of Annecy, this is the very picturesque part of the journey with the mountains rising up from behind the lake.
After Annecy you reach Albertville, Moutiers, Aime and onto Bourg St Maurice. There are a few cheeky short cuts to avoid traffic here but we will keep them to ourselves in this case. Once at Bourg the recently re routed road now takes you under the Funicular and upwards towards the Arcs. The trip up the hill normally takes around 20 minutes. It gets pretty chilly on cold days up in 2000 so prefer for exiting the vehicle!
We recommend you land in Geneva early morning if traveling on a Saturday. This will help you avoid any traffic build up that usually occurs later in the day. Departure time from Les Arcs to Geneva will normally be around 5 and a half hours before your flight time. This is subject to change on the busier Saturdays of the season
About Les Arcs
Les Arcs is a ski resort in the French town of Bourg-Saint-Maurice, and is part of the famous Paradiski ski region, which in total offers an incredible 425 km of pistes. Based in the Tarentaise Valley in the Savoie region, it is just over two hours from Geneva Airport, making it easy to get to for international visitors.
The ski area consists of 106 runs, 54 lifts, and 200 kilometres of descent, with a mixture of open runs, particularly above Arc 2000, and wooded runs around Peisey and Villaroger. Les Arcs provides a variety of green, red, and black jumps and rails, and is also popular with snowboarders. The highest peak is the Aiguille Rouge (Red Needle), which offers a vertical drop to the Village Villaroger. The most famous speed skiing course, which was used in the 1992 Olympics, can be found in Arc 2000. The Vanoise Express cable car, which opened in 2003, connects Les Arcs to the rest of the Paradkiski region, include La Plagne. The ski lifts in this area are fast, modern and comfortable, making it easy to travel between the slopes and villages.
Arc 1600 is the lowest of the resort areas and links directly to the high-speed railway, which travels through the villages of Montrigron and Les Granges. It is connected to the other villages by regular free shuttle buses and ski lifts. Just above Arc 1600, Arc 1800 is the largest of the Les Arcs resorts and consists of four villages: Charvet, Villards, Charmettoger and Chantel. A good number of ski lifts are available and the TransArc gondola travels right to the top of the Arc 2000 valley. Arc also 1800 links to the La Plagne resort via the Vanoise Express.
Arc 1950 is a more recent addition and is a five-star alpine village at an altitude of 2,000 metres, linking to Arc 2000 via the Cabriolet gondola. Arcs 1950 and 2000 offer virtually the same access to the mountain and are the most snow-safe areas in terms of snow quality. Les Arcs 2000 is the area;s highest resort, offering excellent transport links, including the Varet Gondola and six-seater chairlifts. Arc 2000 is famous for its regular speed skiing events.
Things to do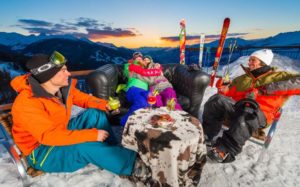 Arc 1800 offers approximately 100 shops in addition to a cinema, a bowling alley, an ice rink and a host of restaurants. Arc 1950 also offers a broad variety of shops, restaurants, wine bars, a nightclub and a luxury spa, while Arc 2000 has a selection of shops and a cinema, as well as various eateries.
If you're looking for something more active to do apart from traditional skiing and snowboarding, heliskiing, snowshoeing, snowkiting, husky sledding, tobogganing and ice climbing are really popular activities during the winter months, while cyclists and hikers travel to the area from all over the world during the summer months. There are also plenty of water sports on offer including white water rafting, canyoning and kayaking.
Events in Les Arcs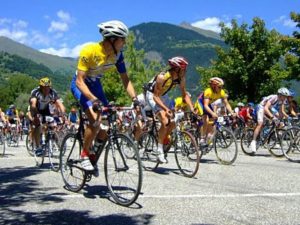 Les Arcs hosts a traditional Provencal market on Thursday mornings throughout the year. The Model of Living festival takes place in March, exhibiting all sorts of models and offering flight demonstrations along with impressive fireworks displays. In May, the international plant festival attracts gardening fans from across the globe. The famous Medieval Festival takes place in July, with medieval markets, fire displays, street theatre, costumed parades, and sound and light shows.
In October there is a honey festival with plenty of tasting opportunities. The Les Arcs European Film Festival in December creates an incredible buzz in the lead-up to Christmas, when you can enjoy Christmas markets, torchlight descents and a visit to Santa. New Year is a great time to party in Les Arcs with evening entertainment, a bouncy castle for children and fireworks on offer.
Accommodation
You'll be spoilt for choice when it comes to finding accommodation in Les Arcs. The area is unique in terms of architecture, with primarily 'avant garde' buildings complete with open-plan interiors, large windows and raised balconies. Arc 1950 stands out as its architecture is more traditionally alpine and is completely 'ski in, ski out'. Arc 1950 also offers some of the most luxurious hotels in the area. 
Les Arcs is completely integrated into the mountain backdrop, making it incredibly picturesque with stunning views. Above Arc 1800 are the apartments of Les Alpages du Chantel, offering 182 apartments in chalet-style residences. Throughout Les Arcs you will find a broad selection of hotels, chalet, apartments and guest houses, so whatever you're looking for, Les Arcs has it all.